Apple M1X MacBook Pro 14 and 16 with notched display, 120 Hz refresh rate, 100 W cooling fans, and similar pricing - rumors run amok following Unleashed event announcement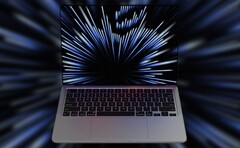 The announcement of the Apple Unleashed event has unwittingly unleashed a torrent of rumors and leaks in regard to the long-awaited 2021 MacBook Pro 14 and 2021 MacBook Pro 16, which are expected to come powered by the practically mythical M1X Apple Silicon. While some of the claims are simply repetitions of older posts, there are a couple of new rumors floating around about the M1X MacBook Pro laptops, with some being more believable than others.
Well-known tipster Dylan (@dylandkt) has served up a reminder of some older leaks along with some new details. So Mini-LED displays are mentioned as being on the M1X MacBook Pro menu, along with smaller bezels, the removal of the Apple logo, the presence of a 1080p webcam, and base configurations of 16 GB RAM and 512 GB storage. Apparently, the 2021 MacBook Pro notebooks will utilize a new power brick, and crucially, they will have a "similar" pricing because of their same M1X base configuration (only the display size will be different with the entry-level models).
No touch bar and the addition of HDMI, an SD card slot, and MagSafe round up Dylan's comprehensive list. The tipster touches on a 120 Hz refresh rate, stating that it had been tested on a prototype. This theme is also brought up by display expert Ross Young, who believes oxide backplanes, Mini-LED panels ("100% confirmed"), and a 120 Hz capability for the MacBook Pro 14 and MacBook Pro 16 are in store. YouTuber Luke Miani doubles down on his own expectations, reckoning there will be no 64 GB RAM choice for the 2021 Apple MacBook Pro devices and there will be a backlit touch ID sensor. He also claims the SD card reader will support faster UHS-II cards.
Last but not least is a somewhat shocking suggestion, which has been shared by numerous tech commenters but seems to originate from Weibo, that the M1X MacBook Pro 14 and 16 will have a notched display akin to the one found on the iPhone 12. The apparent source of this surprising rumor is a known blogger on the Chinese social media site with tens of thousands of followers, so just as reliable as the majority of Twitter-based tipsters. In addition, there is a translated mention of 1000-nit brightness levels for the display and 100 W cooling fans for the MacBook Pro 16 so it can operate at peak performance. Pinch of salt all around until things are officially confirmed at Apple Park on October 18.
MacBook Pro 14 and 16:
Mini Led displays
Smaller bezels with no bottom logo
1080p webcam
Base models will have 16gb of ram and 512gb of storage
Base M1X is the same configuration for both models
Pricing will be similar between 14 and 16 inch
New charging brick

— Dylan (@dylandkt) October 12, 2021
My interest in technology began after I was presented with an Atari 800XL home computer in the mid-1980s. I especially enjoy writing about technological advances, compelling rumors, and intriguing tech-related leaks. I have a degree in International Relations and Strategic Studies and count my family, reading, writing, and travel as the main passions of my life. I have been with Notebookcheck since 2012.