Anniversary Column - An Austrian website?
Views, thoughts, and opinions expressed in the text belong solely to the author.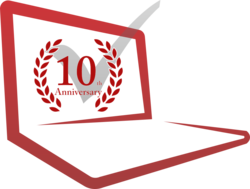 Part 4: We've been fighting against the stigma that Notebookcheck is an Austrian website for many years now. How come we seemingly foul our own nest - here in this place over the seven jewelled hills, beyond the seventh fall?
The three founders of Notebookcheck are Austrian and the company which operates the website is registered in Austria as well. We don't have employees from foreign countries. For years now we've been insisting that Notebookcheck isn't really an Austrian website at all. In Germany, our little "Republic in the Alps", as it is sometimes called, is occasionally mentioned in conjunction with supposed tax benefits. To us, the Austrian Treasury seems more like ancient Byzantine tax collectors who are determined to extract the last goat from our stable. We still pay taxes in Austria exclusively, so our abnegation has obviously nothing to do with the level of taxation.
The fact that Notebookcheck is a registered business or an association of the founders is of secondary importance, as we think of it primarily as a website. We've never intended for the site to be exclusive to our home country and Austrian visitors only account for a small percentage of the total number of visits. Right now, not even 2 % of all visitors are Austrian and the income we derive that way is around 3 %. At the present time, 7 countries have a large reader base than Austria - and the numbers are on the rise. Most of the editors and translators who work on the website reside in other countries. The content itself is hardly Austria-specific, so we really think we can call our site "non-Austrian".

Why is that so important? Well, as we mentioned earlier, we initially had a heck of a time trying to get notebook samples to review. If you're in the business of reviewing laptops, you have to get your hands on the latest and greatest gear as quickly as possible. It's amazing how decentralized notebook manufacturers are, as each country has national subsidiaries, which hardly ever work together. We've often approached the German branches of various manufactures only to be told that we needed to contact the authorized Austrian representatives. When we did as told, we immediately ran into a problem: Austria is simply not important enough in the big scheme of things and the marketing departments hardly ever have any media samples available. They're about as active as an outdoor pool in the dead of winter. Since Notebookcheck was never intended to be "Austrian", the company isn't registered with the Austrian ÖAK (a voluntary association of publishing companies and advertising agencies), but rather its German equivalent. The Austrian media and the marketing departments simply have no clue who we are. Many manufacturers don't even have a subsidiary in our country - at least no public relations department - and the German representatives just claim we're not their responsibility.

Slowly but surely we've been able to make headway with the German and US-based subsidiaries.
Is Notebookcheck a German website, then? No, since the absolute majority of the visitors doesn't come from there, either. The relative majority does, however and no other country contributes more to the reader base. Even so, the number of visitors from Germany still account for less than one third of the total number of readers. Notebookcheck is a global website with 13 different languages and just like the Internet, it's not specific to any one country.

All articles in the anniversary column
Views, thoughts, and opinions expressed in the text belong solely to the author.
I am one of the founders of Notebookcheck. I am in control of finances (including ad management), multiple language sections, and the external review library. Before Notebookcheck was founded, I worked as a bookkeeping software developer.
Views, thoughts, and opinions expressed in the text belong solely to the author.
Ended up in the IT sector in the 90s more or less accidentally and have remained in the industry (as a sysadmin) ever since. Always been interested in laptops - first purchase was - if memory serves correctly - a Toshiba Satellite T2115CS with DX4-75 processor, 4 MB of RAM and 350 MB hard disk drive (and Windows 3.1). To this day, laptops appeal to me - much to the chagrin of my wife, who doesn't seem understand why we need 5-10 of them at any given time ;-).