Amazon has world's cheapest AMD Ryzen 7 4800H and RTX 2060-powered Asus laptop for pre-order at an incredible US$1199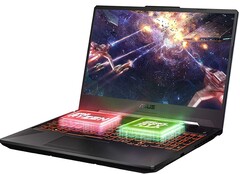 Amazon recently put up an AMD Ryzen 7 4800H and RTX 2060-powered Asus TUF Gaming laptop for the remarkable price of US$1199. This undercuts i7-9750H notebooks and delivers incredible value in the sub-US$1500 price bracket.
Just a day after we brought you a report that Ryzen 4000 laptops were being sold in China, it appears that US retailer Microcenter has also put up Ryzen 4800H devices up for sale, and for just US$1199. The Asus TUF Gaming TUF506IU-MS76 was spotted on Microcenter's online store and features the AMD Ryzen 7 4800H together with the Nvidia GTX 1660 Ti.
This is remarkably good pricing considering the fact that competing i7-9750H laptops offer worse performance, despite costing considerably more. Pricing is even better on Amazon, however.
While the Microcenter listing indicates that the Ryzen 7 4800H-powered TUF506IU is available for purchase right now, Amazon has an incredibly good pre-order offer on a higher-specced variant of this same laptop, for the same price. The TUF506IV-AS76 sells for the same US$1199, but features an RTX 2060 and 16 GB of RAM, alongside a high refresh rate 144 Hz panel and 1 TB SSD.
This variant is supposed to start shipping on March 30th and is at present the cheapest laptop on the market with an RTX 2060, priced closed to GTX 1650-equipped laptops.
AMD's Ryzen 7 4800H is likely responsible for bringing prices down and we look forward to seeing more Ryzen 7 4800H laptops in the sub-US$1500 price bracket.