Acer has an array of niche laptops planned for 2017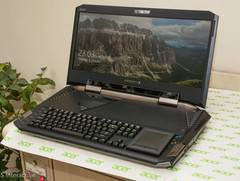 From the monstrous Predator 21 X gaming notebook to the Chromebook 11 N7, Acer has a wide range of laptops coming this year looking to capitalize on a few specific markets that have become the primary drivers of the PC market as consumer demand slows.
Acer has a veritable smorgasbord of notebooks coming soon, announcing the wide selection at multiple events such as the 2017 British Educational Training and Technology Show (BETT) in London and CES earlier this month.
Even though PC shipments declined around 6 percent in 2016, this primarily represents entry-level machines for the volume market. High-end gaming PCs, for instance, seem to have a bright future ahead of them, which may have inspired Acer to create flashy beasts like the Predator 21 X. The $9,000 machine comes with a 21-inch 2560 x 1080-pixel curved screen, an Intel Core i7-7820HK processor and dual Nvidia GeForce GTX 1080 graphic cards in SLI. Acer's strategy seems to be working as the Taiwanese company saw a 50 percent increase in the shipment of gaming notebooks in 2016.
The education PC and tablet market is also showing a lot of promise. At the end of 2015, analysts predicted that the sector would see of CAGR of over 21% for the next four years as more education content shifts online. Gartner ranked Acer Group as the world's leading Chromebook brand at CES with a significant 33% market share in 2015, though it faces stiff competition from Lenovo, Dell, and Hewlett-Packard. With plenty of options to go around like the Chromebook Spin 11 and Chromebook 11 N7, Acer will have a busy year ahead of them.