A mid-range version of the Vivo Nex Dual Display may be available soon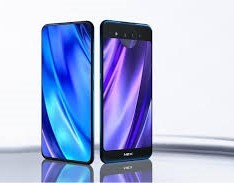 The second-generation Vivo Nex was received with a distinct amount of interest, particularly due to the way in which its dual-screen design addressed the need to use its single compound camera module for selfies. Now, a new TENAA page for the OEM suggests that a version of the phone with the mid-tier Snapdragon 710 processor is on the way.
The Vivo Nex Dual Display is one of a handful of dual-screen phones out there. It has a 5.49-inch 1080x1920 display on one side and a 1080×2340 display on the other, which are OLED and AMOLED panels respectively. The former side also houses the triple camera surrounded by the Lunar Ring flash module, so that this whole set-up can be used for both selfies and general photography - you just need to switch displays. With the Snapdragon 845 and a price-tag of about US$720, the Vivo Nex Dual Display can be considered a flagship, and a particularly innovative one at that.
Now, however, it seems the second-generation Nex is getting a sibling, and that it will be the smaller in terms of processing power, at least. This indication comes from a new listing on the TENAA website submitted by Vivo. It has much of the same specs as the original Dual Display phone, including two screens at the same resolutions. However, it is described as having a CPU that runs at up to 2.2GHz. This matches well with the 710's specs.
Vivo fans may be slightly disappointed in that this new potential variant of the phone drops the state-of-the-art time-of-flight (TOF) sensor found on the original release. Instead, this phone has a 13MP conventional sensor in its place, to make up a complete 12+13+2MP module. On the other hand, the 'mid-range Nex' also rocks a respectable 8GB of RAM and 128GB in fixed storage.
At this point, it is not clear when this putative second variant of the Nex Dual Display will go on sale, or indeed if it even will at this point. Then again, it may make sense for Vivo to plan such a release, as sales of the first-generation Nex were somewhat underwhelming. The OEM may be hoping for greater success with its stand-out dual-screen phone.