Qualcomm Snapdragon 610 MSM8936 vs Qualcomm Snapdragon 450 vs Qualcomm Snapdragon 415 MSM8929
Qualcomm Snapdragon 610 MSM8936
► remove from comparison

The Qualcomm Snapdragon 610 MSM8936 is a mid-range ARMv8-based SoC largely for Android tablets and smartphones. Announced in February 2014, the S610 is one of the first 64-bit capable SoCs from Qualcomm. In addition to 4 Cortex-A53 CPU cores at up to 1.7 GHz, the SoC integrates an Adreno 405 GPU with a 2x 32-bit memory controller (LPDDR3-1600, 12.8 GB/s) and supports Wi-Fi (802.11ac), Bluetooth 4.0, UMTS and LTE.
CPU
The Cortex-A53 is the successor to the very popular Cortex-A7 design. In addition to the new 64-bit capable ARMv8 ISA, the cores offer a variety of other improvements such as better branch prediction. This leads to a significantly higher performance per clock, which is even above the older Cortex-A9.
The four cores of the Snapdragon 610 are clocked at up to 1.7 GHz, offering a performance similar to that of the older Snapdragon 600 (Krait architecture).
GPU
Another new feature is the integrated graphics unit named Adreno 405 (550 MHz). The Adreno 400 series has been substantially redesigned and supports DirectX 11.2 (FL 11_1) including hardware tessellation, OpenGL ES 3.1, and OpenCL 1.2. Furthermore, the performance has been significantly improved, which is now similar to the Adreno 320 and PowerVR G6200.
Features
The Snapdragon 610 offers numerous wireless technologies such as Bluetooth 4.0 and WLAN 802.11a/b/g/n/ac as well as a Multi-SIM cellular modem supporting LTE cat. 4 (up to 150 Mbps), WCDMA, CDMA, EV-DO, TD-SCDMA and GSM/EDGE.
The SoC can encode and decode 1080p videos using dedicated hardware and stream content to displays with up to 2560 x 1600 pixels. A large number of video codecs including H.265 (playback only) will be supported. The camera ISP can handle sensors with up to 21 MP.
Power Consumption
The Snapdragon 610 is manufactured by TSMC in a 28 nm LP process. According to the specifications, we expect a medium power consumption for use in medium-sized smartphones and tablets.
Qualcomm Snapdragon 450
► remove from comparison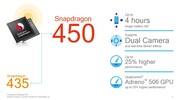 The Qualcomm Snapdragon 450 (SD450) is a lower mainstream SoC for (Android based) smartphones and tablets. It features eight ARM Cortex-A53 cores at up to 1.8 GHz and is already manufactured in the power efficient 14nm process. The integrated X9 LTE modem supports Cat. 7 with maximum transfer rates of 300 Mbps (downstream) and 150 Mbps (upstream). The SoC also includes an Adreno 506 GPU with support for Vulkan and OpenGL ES 3.1. WiFi 802.11ac (1x1, max 364 Mbps) and Bluetooth 4.1 are supported as well. The memory controller supports LPDDR3 (single channel) and the integrated video engine supports H.264 (encode and decode) and HEVC (only decode) in 1080p.
Qualcomm Snapdragon 415 MSM8929
► remove from comparison
The Qualcomm Snapdragon 415 (8929) is an ARM-based mid-range SoC for tablets and smartphones (mostly Android based). It was announced in February 2015 and integrates eight 64-Bit Cortex-A53 CPU cores (octa-core) that clock with up to 1.4 GHz. Furthermore, there is a Adreno 405 graphics card, a LPDDR3 memory controller (max. 667 MHz, 5.3 GB/s) and wireless radios for WiFi and 4G/LTE included in the chip.
The Cortex-A53 is the successor of the entry level Cortex-A7 CPU cores. The A53 is now capable of 64 Bit (ARMv8-ISA) and adressing more than 4 GB RAM. According to ARM the performance per MHz is a lot better and even surpasses a Cortex-A9 core.
The integrated Adreno 405 is clocked with about 500 MHz and supports DirectX 11.1 incl. hardware Tesselation, OpenGL ES 3.1 and OpenCL 1.2.
The integrated wireless radios support WiFi 802.11ac, Bluetooth 4.1, GPS, 2G, 3G and 4G (LTE Cat.4) standards. Futhermore, the SoC is able to decode 1080p videos in H.265 (encode only in H.264) and cameras with up to 13 MP.
The power consumption of the chip is ranging in the mid range, and therefore it is also suited for smaller smartphones.
| | | | |
| --- | --- | --- | --- |
| Model | Qualcomm Snapdragon 610 MSM8936 | Qualcomm Snapdragon 450 | Qualcomm Snapdragon 415 MSM8929 |
| Series | Qualcomm Snapdragon | Qualcomm Snapdragon | Qualcomm Snapdragon |
| Codename | Cortex-A53 | Cortex-A53 | Cortex-A53 |
| Series: Snapdragon Cortex-A53 | | | |
| Clock | 1700 MHz | 1800 MHz | 1400 MHz |
| Cores / Threads | 4 / 4 | 8 / 8 | 8 / 8 |
| Technology | 28 nm | 14 nm | 28 nm |
| Features | Adreno 405 GPU, 802.11ac WLAN, Bluetooth 4.0, LTE Cat. 4, NFC, GPS/GLOSNASS/BeiDou, 2x 32 Bit LPDDR2/3 Memory Controller | Adreno 506 GPU, X9 LTE Modem (300 / 150 Mbps) | Adreno 405 GPU, WLAN 802.11ac, Bluetooth 4.1, GSM/EDGE, WCDMA, UMTS/HSPA, LTE Cat. 4 (max. 150 Mbps), GPS (Qualcomm IZat Gen8C Lite), LPDDR3-1333 Memory Controller |
| iGPU | Qualcomm Adreno 405 ( - 550 MHz) | Qualcomm Adreno 506 | Qualcomm Adreno 405 |
| | | | |
| Architecture | ARM | ARM | ARM |
| Announced | | | |
| Manufacturer | Qualcomm Snapdragon 610 MSM8936 | Qualcomm Snapdragon SD 450 | Qualcomm Snapdragon 415 MSM8929 |
Benchmarks
Performance Rating
- Geekbench 5.1, PCM Work, Sling Shot Physics, Antutu v8 CPU
- SD 450