40th anniversary Intel i7-8086K CPU specs and performance get leaked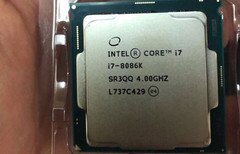 The i7-8086K would be a limited anniversary edition marking 40 years since Intel first launched the 8086 16-bit microprocessor. Spec-wise, it is very similar to an i7-8700K, but the base and boost clocks got bumped to 4 GHz and 5.1 GHz, respectively. With proper cooling, the i7-8086K could be overclocked easily to 5.0 GHz and beyond.
2018 marks the 40th anniversary of Intel's 8086 CPU, one of the first chips to support 16-bit instruction sets. Apparently, Intel is planning to launch a special anniversary SKU variant of the Coffee Lake desktop CPUs, as a Chinese tester already got hold of a prototype sample of an i7-8086K chip and released all the specs and a few test results to prove it.

According to the Chinese leaker, the i7-8086K is similar to the i7-8700K in most respects, coming with 6 cores / 12 threads, 12 MB of L3 cache, an integrated UHD Graphics 630 GPU and a 95 W TDP. However, the clocks are higher, with default frequencies starting at 4 GHz and single-core boost ones reaching 5.1 GHz (4.4 GHz for all cores), making this highest clocked i7 to date. Overclocking it to 5 GHz, may require serious air or water coolers, as the prototype managed to reach almost 100 degrees centigrade when coupled with a Cooler Master T400i air cooler.

Some commenters on the Chinese forum claim that this is just an overclocked i7-8700K and the specs and tests are falsified, but there is no way to really prove anything for the time being. Intel may very well announce this model soon enough, and it could turn out to be a hit among true Intel fans if it comes in limited stocks.