3 wireless headphones every fitness fanatic should try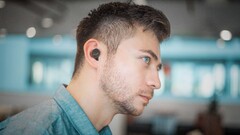 The choices and comments made on this list belong solely to the author.
1. SoundPEATS TrueFree+
Perhaps the best deal in tech when it comes to wireless headphones are the SoundPEATS TrueFree+ (US$29.99 on Amazon at the moment). These buds deliver surprisingly rich bass and nuanced mids at an unbeatable price.
Pro(s)
- Very little audio distortion even at high volume.
- 35hrs. of listening time (with charging case).
- Binaural audio with dual mics for phone calls.
- IPX4 water resistance.

Con(s)
- No active noise cancellation.
- Only 3.5-4hrs. of listening time per charge.
- In-ear suction design may cause discomfort or fail to remain secure after long use periods.
- Micro USB charging case is so 2000-late.
2. Jabra Elite 3
Jabra brand headphones have gained notoriety in the fitness community for delivering a lot of bang for their buck. The Jabra Elite 3 buds (about US$75 on Amazon at the time of writing) are no exception. These sporty headphones offer active noise cancellation (ANC), rich sound, and dedicated shortcuts for Alexa and Spotify.
Pro(s)
- Pass-through audio.
- Bluetooth 5.2
- 4-microphone array for clear phone calls.
- 7 hrs. of battery per charge.
- 2-year warranty against failure from dust and water.
Con(s)

- Static noise in standby mode.
- Quieter than most in-ear headphones at full volume.
- Charging case is barely pocketable.
3. Beats Fit Pro
The gold standard for true athletes looking for a secure fit, immersive sound, and best-in-class noise cancellation are Beats Fit Pro from Apple (currently US$199.95 on Amazon). These buds deliver low-latency sound with superb stereo separation and a balanced profile that most listeners will find agreeable.
Pro(s)
- Malleable wingtip design ensures a firm fit.
- Spatial Audio, automatic device switching, and dynamic head tracking on iOS devices.
- IPX4 sweat and water resistant.
- Feature-rich Android companion app.
Con(s)
- 6 hr. battery life per charge is good but not great.
- Bulky charging case with a finicky bud-alignment design.
- Media control buttons are too sensitive.
Self-proclaimed coffee connoisseur and tech enthusiast Brahm Shank is captivated by the impact of consumer tech: "It's profoundly moving when people discover that the phone in their pocket or the tiny computer on their wrist has the power to enrich their lives in ways they never imagined." Apple, Inc. and its unique position at the intersection of technology and the creative arts, resonates deeply with Brahm and his passion for helping people unleash their potential using technology. Over the years, Brahm has held various podcasts - including famed technologist David Pogue of The New York Times on topics such as Big Tech and digital wellness.