3 essential features every Mac owner should use in macOS Monterey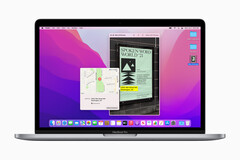 The choices and comments made on this list belong solely to the author.
Compiled by Brahm Shank - The choices and comments made on this list belong solely to the author and may not reflect Notebookcheck's opinions
Did you recently come into the possession of a new Mac? Perhaps you just upgraded your MacBook to macOS 12. Either way be sure not to miss out on these key features that will ensure you get the most out of your Mac on Apple's latest operating system.
1. Focus Modes
Maximizing productivity is all about precise planning and time management. Lay the groundwork and then let your Mac do the work for you with Focus Modes for less frequent interruptions from pesky notifications. Customize which notifications will vie for your attention during work hours, at the gym, or while decompressing at home so you can stay concentrated on what is most important to you.
Focus Modes allows users to toggle more advanced Do Not Disturb features using app-based, time-based, or location-based settings. That means users have complete control over who contacts them and when. Focus Modes will even intelligently prompt users to enable Do Not Disturb during an important business meeting or while watching a movie by pulling data from other apps.
Enable Focus Modes on Mac by navigating to Control Center > Focus > *Select Focus Mode*. To create new Focus Modes select System Preferences > Notifications > Focus > "+". Additionally, if you are deep into the Apple ecosystem, enabling a Focus Mode on your Mac will automatically enable the same focus mode on your iPhone or iPad.
2. Live Text
Perhaps one of the most useful features in macOS Monterey is Live Text, which allows users to select text from almost any image and quickly perform actions based on contextual format. Instantly highlight, copy, and paste text or handwriting from images using optical character recognition. Live Text automatically recognizes phone numbers, emails, location data and more allowing macOS to generate actionable toggles to dial a phone number, compose an email, or open a location the Maps app.
3. Low Power Mode
Whether you are struggling to meet a work deadline on time, or adding a few finishing touches to an important essay before your battery dies, we could all use a feature that allows us to squeeze just a little bit more battery life out of our MacBook. If you are running macOS 12 on a MacBook Air (late 2018 and later) or a MacBook Pro (Early 2016 and later) enable Low Power Mode to noticeably extend your battery life by navigating to System Preferences > Battery > Low Power Mode.
Self-proclaimed coffee connoisseur and tech enthusiast Brahm Shank is captivated by the impact of consumer tech: "It's profoundly moving when people discover that the phone in their pocket or the tiny computer on their wrist has the power to enrich their lives in ways they never imagined." Apple, Inc. and its unique position at the intersection of technology and the creative arts, resonates deeply with Brahm and his passion for helping people unleash their potential using technology. Over the years, Brahm has held various podcasts - including famed technologist David Pogue of The New York Times on topics such as Big Tech and digital wellness.