CES 2019 | 2019 HP Omen 15 comes with 802.11ax wireless and a 240 Hz display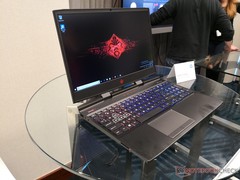 The refreshed model will boast post-Pascal Max-Q graphics from Nvidia as well, but it will otherwise have the same chassis design as last year's Omen 15. The significantly faster refresh rate should reduce screen tearing and benefit greatly from the new Nvidia GPU options.
With Nvidia's mobile RTX platform imminent, OEMs are beginning to show their gaming cards. HP will kick off the new year with a refreshed Omen 15 laptop equipped with "next generation Nvidia Max-Q graphics" and a handful of internal changes.
One of these new upgrades is wireless 802.11ax or Wi-Fi 6 for theoretical transfer rates surpassing 11 Gbps. Most gaming laptops and Ultrabooks today ship with 802.11ac for transfer rates of "only" 867 Mbps or 1.73 Gbps maximum. This option will not be coming standard, however, as HP will still offer 802.11ac on the base configuration.
The second update involves a new panel option. Users can configure with a new 240 Hz refresh rate and 4 ms response time 1080p display for even smoother gameplay than existing 120 Hz and 144 Hz options. HP claims it will be the first laptop to market with such a display.
The chassis itself remains identical to the 2018 model which we've already reviewed in detail here. As for the larger Omen 17 or Omen X, HP says they have nothing to announce just yet.
Expect the refreshed Omen 15 to be available this coming February with two next generation Nvidia GPU options for $1370 and $1630 USD. SKUs with the new 240 Hz display will have to wait until July.