ZTE ban could boost Chinese chip-making plans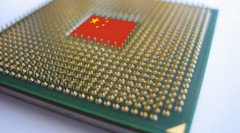 Reuters has recently published an article stating that China will be ramping up efforts to greatly enhance its chip-making industry. The hefty seven-year ban on buying parts from US manufacturers that has been placed on Chinese tech firm ZTE by the US Department of Commerce has provided fresh impetus for the Asian state's efforts in the semiconductor industry.
Sources talking to Reuters have commented that Chinese officials have been holding talks in regard to ramping up chip production in China and in turn reducing the reliance on products from foreign manufacturers, such as Intel and Qualcomm. There is a considerably large chip-making industry already present in the country, with companies like Huawei and the aptly named Semiconductor Manufacturing International Corporation (SMIC) producing the vital components. Ironically enough, past customers of SMIC have included American companies like Qualcomm and Texas Instruments.
Obviously, a company like ZTE would eventually benefit from the improved availability of required parts from a domestic producer. According to the report from Reuters, there is a goal to have chips made in China in 40% of smartphones in the local market by 2025, with billions of dollars of investment being made available for the Chinese chip market. A trade war between the USA and China has been looming for some time now, and it seems the ZTE issue and retaliation could become contributing factors.