Windows 11: Microsoft has the opportunity to unlock the potential of the Surface Pro and Surface Pro X as true iPad Pro competitors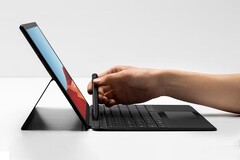 Views, thoughts, and opinions expressed in the text belong solely to the author.
Depending on how you look at it, the iPad Pro also holds another advantage over the Surface Pro and Surface Pro X: its tablet experience. This may be a double-edged sword for the iPad Pro, as we have covered before, but it still offers a more cohesive experience than Windows 10 tablet mode, a feature that Microsoft has seemed to ignore in its current OS.
Android app emulation could expand the versatility of the Surface Pro line series, in our opinion. Microsoft has confirmed that AMD, ARM and Intel-based processors will support the functionality, albeit possibly only through the Amazon Appstore. It would be great if Microsoft allowed people to install APKs on Windows 11, also known as sideloading, but the specifics of Android app emulation remain unknown, currently. Windows 11 Insider Builds will start shipping from next week, so we may get a better idea of Android app emulation then.
The option of running Android apps in Windows 11 somewhat solves Microsoft's perennial app problem, especially for an ARM-based tablet like the Surface Pro X. Hopefully, Microsoft fleshes out Android app emulation on Windows 11 better than it did with Project Astoria, its ill-fated equivalent for Windows 10 Mobile.
If it does, then Windows 11 could provide devices like the Surface Pro X with a tablet-like app experience when you want it and a fully-fledged desktop experience the rest of the time. The same would apply to the Surface Pro range, although without any architecture-based restrictions that affect the Surface Pro X.
Views, thoughts, and opinions expressed in the text belong solely to the author.
Prior to writing and translating for Notebookcheck, I worked for various companies including Apple and Neowin. I have a BA in International History and Politics from the University of Leeds, which I have since converted to a Law Degree. Happy to chat on Twitter or Notebookchat.