Valkyrie Profile: Lenneth now available for Android and iOS devices in the US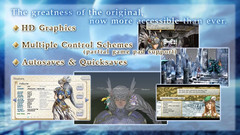 Announced for Japan back in March, Valkyrie Profile: Lenneth is finally available for Android and iOS smartphones in the US. This cult classic is more than 12 years old, but the mobile version has been refreshed with HD graphics, a wide voice cast, partial gamepad support, as well as save and autosave capabilities.
Valkyrie Profile is a role-playing game for the PlayStation consoles that was released in late December 1999 in Japan, while the North American market got it the following year, at the end of August. Six years later, it was released for the PlayStation Portable as Valkyrie Profile: Lenneth. Now, this title is finally available in the US for both Android and iOS.
For the refreshed mobile version of the game, Square Enix added the following: smartphone-optimized HD graphics, multiple control schemes (including partial gamepad support), autosave and quicksave capabilities, auto-battle combat option. The story remains the same as in the original game, involving "a divine war that would come to rage across the lands of men, heralding the coming of the end of the world" based on Norse Mythology.
Valkyrie Profile: Lenneth has a rather steep price of US$15.99 for both Android and iOS. Even more, various in-game items are also available for prices between US$4 and US$9. The Android version of the game requires Android 4.4 KitKat or later, while the iOS version needs iOS 8.0 or later. The game is rated 9+ for infrequent/mild cartoon or fantasy violence, so even third-graders should be allowed to play it — as long as they don't start buying boosters without their parents knowing it, of course.
Are you one of the elders who played the original when it came out? Would you pay US$16 to take this title for a spin on your mobile? Let us know in the comments.