Turing Space Industries promises to reward early Turing Phone supporters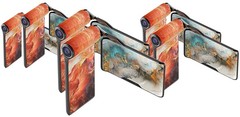 While many people still think that Turing is trying to get some more money without delivering anything solid and the HubblePhone will turn out to be nothing else but vaporware, the company has just promised to compensate the customers who paid for a Turing Phone Dark Wyvern and have not been refunded yet.
Working For Notebookcheck
Are you a techie who knows how to write? Then join our Team! Especially English native speakers welcome!
Currently wanted:
News and Editorial Editor - Details here

After three years and a few interesting concepts that never made it beyond that stage, the company that is now known as Turing Space Industries is back with some news. The last product they shelved was the Turing Phone Appassionato, a futuristic device that was revealed last year. Now, the time has apparently arrived for the ill-fated brand to give something back to its early backers who were not refunded for their financial support so far.
Without further ado, these are the highlights of the whole refund/compensation scheme announced by Syl Chao, CEO of Turing Holdings and its associated subsidiaries in an email that I received earlier today:
those who purchased a Turing Phone Dark Wyvern will get a HubbleCard for the HubblePhone K3-XR Copernicus
those who purchased a Turing Phone Dark Wyvern Glaedr will get a HubbleCard for the HubblePhone K3-XR Cassini
a lottery for 10 current customers will offer HubbleCards to exchange for HubblePhone K3-XR Herschel devices
Obviously, all these might be nothing more but new lies, but the HubblePhone looks quite impressive and it would be great to see this device actually succeed. Is Turing Space Industries finally on the right path or not? As usual, feel free to drop your answers in the comments section below.