Topjoy Falcon reaches over $170K in Kickstarter funding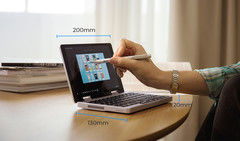 The 8-inch convertible is off to a good start as far as user interest is concerned. Nearly 400 backers have already pledged an average of $450 USD each for the device. We obtained an early sample of the unit and can vouch for its robust chassis quality and stable CPU performance with minimal throttling.
Apparently, people really want an 8-inch convertible laptop. After just a week in Kickstarter, the creators of the Falcon have announced over $170K in raised funds or over three times the initial goal of $50K. The Windows device is notable for its very small form factor and business-oriented features such as its 16:10 8-inch 1920 x 1200 resolution touchscreen with Gorilla Glass, support for both Windows 10 Home and Ubuntu, and WACOM pen compatibility.
Internally, its actively-cooled quad-core Pentium Silver N5000 SoC is fairly modern for speeds similar to most netbooks like the Acer Swift 1 or Lenovo Yoga 330.
Early backers of the project can get the Falcon for $400 USD compared to its expected retail price of $700 USD. We recommend checking out our review of a pre-production unit here for more details on its specifications and features. In short, it definitely needs some work in terms of display brightness and WLAN reception that we hope will be addressed for the final retail unit.