Top 3 iPad apps you will absolutely love on your Apple Silicon Mac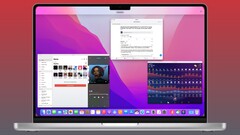 The choices and comments made on this list belong solely to the author.
1. Apollo for Reddit - Free
This award-winning Reddit client eats the official Reddit app for breakfast. Apollo for Reddit features extensive customization features allowing users to tweak the interface to their liking.
A variety of interchangeable app icons, color-coded discussion threads, customizable gestures, and more make this app feel like a first-party Reddit client coming straight out of the Cupertino mothership itself. By utilizing the Apollo app users can even add shortcuts to their favorite subreddits using widgets in Notification Center.
2. Soor - US$6.99
Where Apple's own first-party Music app falls short, Soor is here to pick up the slack. Built from the ground up for Apple Silicon, Soor offers a blazing fast experience and a host of useful tools including Magic Mixes and Release Alerts. Magic Mixes will select playlists for users based on their musical taste and listening habits, while Artist Alerts allow users to receive notifications the moment artists drop new releases.
Soor also receives bonus points among true Apple enthusiasts by reviving the ever-popular Cover Flow feature, which Apple removed from its own Music app on the Mac back in 2018. Like Apollo, Soor expands on its functionality by offering a collection of widgets featuring far more options than Apple's first-party solution.
3. ONE METEO - US$19.99
Using advanced weather source data from AerisWeather, the same forecast information utilized by many aviation companies, ONE METEO is a gorgeously designed weather app that is both simple and straightforward.
Featuring real-time satellite imagery, air quality, rain/snow alerts, and more ONE METEO is more than worth the money. ONE METEO's data-rich widgets feature far more information at a glance when compared to Apple's bare-bones Weather Channel offering, which lacks a first-party app entirely.
Self-proclaimed coffee connoisseur and tech enthusiast Brahm Shank is captivated by the impact of consumer tech: "It's profoundly moving when people discover that the phone in their pocket or the tiny computer on their wrist has the power to enrich their lives in ways they never imagined." Apple, Inc. and its unique position at the intersection of technology and the creative arts, resonates deeply with Brahm and his passion for helping people unleash their potential using technology. Over the years, Brahm has held various podcasts - including famed technologist David Pogue of The New York Times on topics such as Big Tech and digital wellness.