Three new professional class monitors from Samsung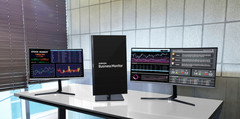 Three new professional monitors from Samsung have been revealed at IFA 2017. Samsung is hoping that business users will appreciate the visual clarity and extra screen real estate of the large panel, high-resolution displays.
While AOC and Asus are pushing out new monitors focused on gamers and response time, Samsung has revealed three new monitors at IFA 2017 that are designed with visual clarity in mind for the professional market. They are the CH89 (34-inch curved model), CH80 (27-inch curved model) and SH85 (23.8- and 27-inch flat-screen models). All three use USB-C as their video interface, although the CH80 and SH85 feature DisplayPort daisy chain technology to simplify multi monitor setups on laptops which only have a single video output. To assist with multi monitor usage, Samsung has designed them to have a nearly bezel-less design, and each monitor is equipped with height, swivel, and tilt adjustment to aid in lining them up correctly.

The CH89 runs at 3440 x 1440 resolution, the CH80 is 1920 x 1080, and the SH85 is 2560 x 1440. The two 'CH' models feature a 1800R curve, which improves readability of text when placing PDFs on the left and right edges of the screen.
| | CH89 | CH80 | SH85 |
| --- | --- | --- | --- |
| Screen | Curved 1800R | Curved 1800R | Flat |
| Resolution | 3440 x 1440 (21:9) | 1920 x 1080 (16:9) | 2560 x 1440 (16:9) |
| Size | 34-inch | 27-inch | 23.8-inch / 27-inch |
| Interface | USB-C | USB-C (Daisy chain) | USB-C (Daisy chain) |
| Ergonomics | Height, swivel, tilt | Height, swivel, pivot, tilt | Height, swivel, pivot, tilt |