This is what a Panda Pixel 4 could look like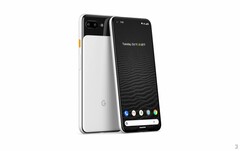 One of the popular design options for the Google Pixel 2 XL was a black-and-white "Panda" variant. The Panda Pixel 2 XL had most of its rear case covered in panda white, while a portion at the top was colored black. A skilled concept designer has come up with a potential Panda Pixel 4 smartphone that has received an overwhelmingly positive reaction.
Jonas Daehnert, who is also known as PhoneDesigner, has come up with yet another concept Pixel 4 that has his followers calling for Google to hire him as soon as possible. This time, Daehnert has decked out the smartphone in the famous "Panda" design that was popular with Google Pixel 2 XL users.
The render shows the roughly bottom three-quarters of the concept Pixel 4's rear colored in panda white, which is topped off with a strip of black. Obviously, it's the black-and-white color theme of the smartphone that gives it the catchy "Panda" nickname. Funnily enough, one of Daehnert's followers has pointed out that a penguin could have been the inspiration in this case, due to the orange power button resembling the beak of the lovable flightless bird.
The Google Pixel 4 should be a technological step-up from its predecessors, and it could feature a higher screen-to-body ratio, which seems to be something smartphone OEMs have been obsessing over more and more lately. Considering the responses Daehnert has been receiving following the posting of his take of a Panda Pixel 4, Google's designers might want to ponder over the advantages of offering this color scheme for the next flagship smartphone in the Pixel series.