Striking Pixel 4 stormtrooper concept renders give the clearest look yet at Google's next flagship smartphone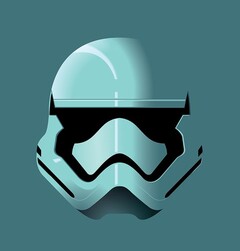 A new set of gorgeous Pixel 4 stormtrooper concept renders have people hoping that its designer is working Google. We hear Emperor Palpatine is a fan too.
Google is still keeping the Pixel 4 under wraps, but that has not stopped Jonas Daehnert, who tweets under the handle @PhoneDesigner, from creating a gorgeous new set of concept renders of the smartphone. These new renders follow on from one he published over a week ago, which received plenty of praise on Twitter.
Daehnert stresses that these are merely concept renders, and are not necessarily entirely based on recent leaks. They do give an insight into how dual rear-facing cameras would look within the trademark Pixel design language. Daehnert still supposes that Google will opt for a raised camera housing, but this blends in nicely with the glossy black section of the back of the device.
Moreover, keeping the SIM card tray on the underside of the frame leaves the left-hand side of the device looking clean and sleek. Daehnert has included an accented and textured power button too, à la the HTC 10. A textured finish would be a departure for the Pixel series and is probably unlikely to appear in the final design, but it would make it easier to find the button when you are not looking directly at the device. Let us know what you think of the latest Pixel 4 renders, and whether you like the switch from panda to stormtrooper.