Deal | This Gateway 14.1 laptop offers phenomenal specifications for just $399 USD with its 10th gen Intel Core i5, 16 GB of RAM, and 1080p display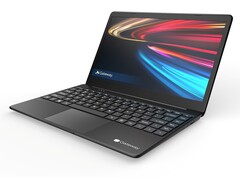 Buying a Dell XPS, Lenovo Yoga, or Asus ZenBook is a solid decision if you have a grand in your wallet. For those with just half the budget, however, choices may look a little slim. Walmart is currently running a sale on its 14.1-inch Gateway subnotebook for just $400 USD down from the original launch price of $700.
What makes this deal particularly compelling is its specifications relative to the low asking price. Users are getting a fairly new 10th gen Core i5-1035G1 CPU with 16 GB of RAM and a 1080p display whereas most other laptops in this price range are typically equipped with slower Core i3 or Celeron CPUs, 4 to 8 GB of RAM, or a 720p display instead. It's therefore quite uncommon to find a budget thin-and-light laptop with such respectable specifications all around. The system even comes with USB-C, USB-A, HDMI, and a MicroSD port which is more than what we can say for most flagship Ultrabooks nowadays.
The main downside to this configuration is the plastic chassis and low storage space of just 256 GB. After all, users generally can't expect sleek metal designs for a $400 laptop. Home users and students should definitely still consider the Gateway 14.1 as it will be more than sufficient for word processing, multi-tasking, browsing, and video streaming on-the-go especially since you don't need Thunderbolt or Iris Xe graphics for such workloads.
Intel 10th gen Core i5-1035G1 CPU
Integrated UHD graphics
14.1-inch 1080p IPS display (likely only 45% NTSC or 60% sRGB)
256 GB SSD (upgradeable, but warranty may be voided)
16 GB of RAM (soldered and not upgradeable)
2x USB-A, USB-C, HDMI, Kensington Lock
Fingerprint reader
MicroSD reader
Bluetooth 5.1
13.1 x 8.9 x 0.8 inches
3.5 lbs
Top 10 Laptops
Multimedia, Budget Multimedia, Gaming, Budget Gaming, Lightweight Gaming, Business, Budget Office, Workstation, Subnotebooks, Ultrabooks, Chromebooks
under 300 USD/Euros, under 500 USD/Euros, 1,000 USD/Euros, for University Students, Best Displays
Top 10 Smartphones
Smartphones, Phablets, ≤6-inch, Camera Smartphones