The Nokia 8 may be the first device to ship with Android O, also expected to feature a monochrome rear camera sensor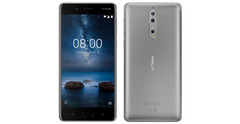 The Nokia 8 is expected to be launched on August 16, which happens to be about a week after the supposed launch date of Android O. A Geekbench listing has shown a device that looks to be the Nokia 8 running on O.
The Nokia 8 is building up steam for its supposed August 16 launch, so it's inevitable that we get more detailed information as its release date draws closer. This time, a listing on Geekbench has shown the flagship to be running on the yet unreleased Android O.
The Nokia 8 has been apparently been listed as the "Unknown Heart" on the same benchmark in the past, so that lends credence to the idea that we're dealing with a Nokia 8 this time out. It also helps that the other details are in line with what we've seen of the Nokia 8 already.
A tweet by David Ruddock, managing editor at Android Police, has touted Android O to be released sometime next week, which happens to fall in nicely with the Nokia 8's expected launch date.
This would make the Nokia 8 the first device to be launched with O, which is the exact kind of publicity HMD could do with at the moment.
The Nokia 8 is also expected to feature a regular RGB sensor and a supporting monochrome sensor as part of its dual rear camera cast. The company signed a partnership with ZEISS a few weeks ago, so we expect the camera performance of the Nokia 8 to be up there with the best in the market.