The Essential PH-2 may be in the works after all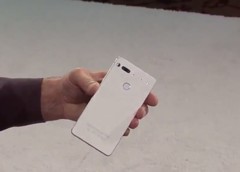 After Essential officially declared that it would no longer be selling the PH-1, a cryptic tweet by the company's Head of Research and Development has once again stoked the flames, and fans of the company may now share a lingering hope in the existence of an Essential PH-2.
"All these stories about Essential's demise just end up feeding my desire to rub their faces in it in the future. We aren't done, not by a long shot," he proclaimed in a tweet.
While it doesn't exactly point towards the possible existence of a second-generation Essential Phone, the amount of bravado in the tweet leads us to believe that the company may just have a new smartphone in the works. Most media pieces on the issue yesterday were focused on the PH-1, and it stands to reason that the most probable cause for Keats's tweet would be if the company had an answer to those, in the form of a PH-2.
Or maybe not. This is all just speculation and it's a lot likelier that the company is working on the rumored AI mobile device. We're not sure who'd be excited about that, though.