Tesla self-driving Hardware 4 (HW4) teardown from upcoming Model X reveals significant upgrades and consolidated AMD CPU-GPU infotainment board, no retrofit possible in current Tesla cars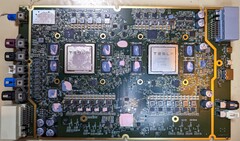 Tesla is expected to upgrade its self-driving computer to the Hardware 4.0 (HW4) version from the current HW3. While things are still officially under wraps, photos of HW4 and possible changes coming to Tesla's Full Self-Driving (FSD) have leaked online.
From what we know so far, Telsa is upgrading its computing platform to accommodate improved radar and camera systems. Known Tesla leaker @greentheonly on Twitter has posted visuals of the HW4 computer in a thread.
The OP managed to lay hands on a HW4 computer from an upcoming Model X. Thus, it is likely that the automaker will be liquidating its current Model X production and soon release a new series with HW4 hardware.
Coming to the hardware itself, @greentheonly's teardown reveals that Tesla will no longer offer a separate daughter board for the GPU. Instead, the AMD CPU, AMD GPU, 256 GB NVMe, and 16 GB RAM will all be present on the same infotainment board.
The HW4 hardware continues to be based on a Samsung Exynos chip. The CPU cores are now increased from 12 to 20 (5x 4-core clusters). These cores can boost up to 2.35 GHz and idle at 1.37 GHz, according to the OP. An additional TRIP core (total of 3 cores) in each TRIP unit on both the SoCs is present with a maximum frequency of 2.2 GHz. The TRIP cores are basically the ones that handle neural net computations.
HW4 seems to be running the Linux kernel 5.4.161-rt67. As is important in self-driving vehicles, the HW4 features redundancy with identical power connections on each side and two network links to the infotainment board. However, the OP notes that killing power to the A side kills the network switch and the connection is lost altogether.
There are now 12 camera sensors (rather, connectors) on HW4 including one marked "Spare", which is an increase from the eight connectors we've seen with HW3.
The camera placement will also change — the side cameras will now be placed in the front fenders while two would be placed in the windshield. Tesla cars featuring HW4 would avoid possible blind spots by placing cameras in front and rear bumpers as well.
HW4 will make use of a new radar module called Phoenix, references to which are found in the firmware. According to Tesla, Phoenix is a non-pulsed automotive radar that works in the 76-77 GHz frequency range and supports three sensing modes.
The Federal Communications Commission (FCC) has released images and documentation for Phoenix, which have been accessed by Teslarati. A new tri-band GPS module is present as well.
@greentheonly also notes that the idle power consumption with HW4 is quite higher compared to HW3.
Bad news for current Tesla owners
While the changes coming to HW4 are welcome, Elon Musk has officially killed any hopes for current Tesla owners wanting to retrofit HW4 into their cars. In a Q4 2022 conference call, Musk said that it is not economically and technically feasible to retrofit Hardware 3 with Hardware 4.
However, he did confirm that HW3 will "still exceed the safety of the average human" and that it will achieve its full self-driving (FSD) goals.
@greentheonly also confirmed that it is not possible to retrofit HW4 into HW3 cars given the completely different form factors between the two modules. While new premium Tesla models will come with HW4 installed, the OP seems quite sure that new Model 3 cars will also get the new smarts eventually.
It is not known when Tesla would make the HW4 official, but the company's Investor Day on March 1 seems to be a likely date.
Check out @greentheonly's thread linked below for more information and pictures of Tesla's upcoming Hardware 4 computer.
Buy the Kikimo tire inflator air compressor for Tesla Model 3/Y/S/X on Amazon
I am sure you are all eager to know more about HW4, so I am going to show you the refreshed car computer from a Model X. Just don't tell anybody you saw it, because it's really a secret still.
This unit made appearance at the EPC about a month ago, but the picture was hidden. pic.twitter.com/7AENqP6h2Z

— green (@greentheonly) February 15, 2023
Though a cell and molecular biologist by training, I have been drawn towards computers from a very young age ever since I got my first PC in 1998. My passion for technology grew quite exponentially with the times, and it has been an incredible experience from being a much solicited source for tech advice and troubleshooting among family and friends to joining Notebookcheck in 2017 as a professional tech journalist. Now, I am a Lead Editor at Notebookcheck covering news and reviews encompassing a wide gamut of the technology landscape for Indian and global audiences. When I am not hunting for the next big story or taking complex measurements for reviews, you can find me unwinding to a nice read, listening to some soulful music, or trying out a new game.