SwiftKey may lose Gmail optimizations soon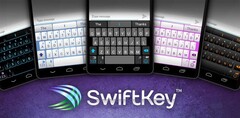 Google has reached out to SwiftKey users, informing them that the app's normal ability to predict text while typing based on Gmail data will be suspended soon. This measure is to come into effect starting from July 15, 2019. Then again, this may not be necessary should the SwiftKey developers comply with Google's latest privacy policies.
SwiftKey is a popular keyboard app developed by Microsoft with the goal of making mobile typing better and easier. It partially does so by pulling data from Google's apps and services (most notably Gmail) to make the writing experience more personal and automated for the user. However, the Mountain View's new privacy and user-data policies are incompatible with this behavior.
Therefore, it has contacted SwiftKey users, warning them that their Google accounts will no longer allow their keyboard apps to share data. Therefore, these individuals will lose the integration with Gmail with which their typing might be enhanced.
On the other hand, it has also been indicated that these new restrictions may be allayed if Microsoft complies with Google's new privacy policy. The developer apparently has until July 15, 2019 to do so. Otherwise, SwiftKey users may lose the options to integrate with Gmail that have heretofore been a staple the app.