Study declares 95% of reported bitcoin trading is fake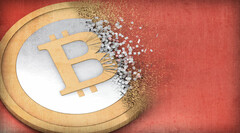 A comprehensive study carried out by Bitwise Asset Management has come to the conclusion that the majority of reported volume in bitcoin trading is faked. Some unethical bitcoin traders are deliberately manipulating the volume to encourage either buying or selling of the cryptocurrency. Bitcoin is currently valued at US$3,965.
Bitwise has published a very thorough study about the bitcoin market, and it offers some disconcerting information for those considering a plunge into the cryptocurrency investment pool. Research carried out on 81 crypto exchanges that were reporting the highest trading volumes (via CoinMarketCap.com) showed that 71 of them were involved in "wash trading".
Wash trading is a term used to describe a particular process of feeding the market with misleading information, and it is illegal under US law. It may involve a single person buying and selling the same stock, or it can be carried out by a broker and a trader working together to provide fake volume that makes buying or selling the stock more attractive to other investors; in this case bitcoin investors.
The study discovered that out of a huge daily reported bitcoin volume of US$6 billion, only US$273 million of it was actually legitimate trade. The rest of the volume was created by dishonest reporting. Bitcoin's exchange rate with the US dollar has fallen dramatically from its lofty peak of nearly US$20,000, but its value seems to have stabilized to some extent over the last few weeks. The last thing legitimate bitcoin traders need right now is more investors getting jittery about the outlaw nature inherent in a lot of cryptocurrency business.