JPMorgan Chase embraces blockchain and creates a cryptocurrency called JPM Coin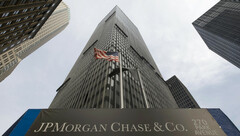 CNBC has reported that JPMorgan Chase has developed a new cryptocurrency that will be called JPM Coin. The digital currency will apparently be used in the banking company's "wholesale payments business." The JPM Coin will adopt the stablecoin concept, in that its price will not change as one JPM Coin will be worth one US dollar.
The cryptocurrency world just got a major boost thanks to JPMorgan Chase's decision to get more involved with the industry. The company's CEO, Jamie Dimon, made some very disparaging remarks in the past about cryptocurrency's flag-bearer, Bitcoin. He called it a "fraud", "stupid", and "far too dangerous" – the banker even went as far as to say he would fire "in a second" anyone who traded it at JPMorgan Chase. Now it seems the company will become a legitimate champion of the technology – to a limited extent.
JPM Coin will likely be utilized in corporate deals: The bank's customers get the coins after depositing dollars. The digital currency can then be used to make purchases and payments on the blockchain, and once the exchange has been completed the coins are destroyed. The virtual coin could also transplant international wire transfers, offering a potentially more secure and much faster transaction process than the current system.
JPMorgan Chase deals with vast amounts of money on a daily basis (US$6 trillion according to CNBC), so converting some of the current methods of exchanging cash to a digital coin-based method should facilitate business for those involved.