So long Bixby, hello Neon: Samsung's latest A.I. project teased for CES 2020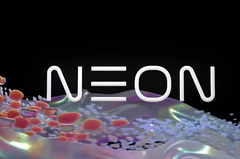 Samsung is generating quite a buzz with a mysterious new project. Dubbed Neon, the unknown product is focused around A.I., asking us if we've "ever met an 'ARTIFICIAL.'" While there is little information outside of some press material and a fancy logo, Samsung is set to unveil the project in full at CES 2020.
Several companies have tried their hands at developing "revolutionary" A.I. software in the form of digital assistants. None have failed quite so hard as Samsung's Bixby, but don't count the Korean giant out just yet. It appears that Samsung is ditching Bixby in favor of a new A.I.-focused project, dubbed Neon.
Samsung's Technology and Advanced Research Labs (STAR Labs) announced the project via social media. At the same time, a new website has popped up. The website (Neon.life) offers no information but asks visitors, "Have you ever met an 'ARTIFICIAL'?" [sic]. There is also a new Twitter handle for the project, @neondotlife.
Perhaps comparing Neon to Bixby is unfair. According to the Twitter account, "Neon is NOT about Bixby." Rather, as @neondotlife puts it, "NEON = ARTIFICIAL HUMAN." We'll leave it to the readers to draw their own conclusions as to what that means.
As it is, there's scant information about Neon to discern what the project actually is. Looking at the marketing information, it is focused on some kind of artificial intelligence. Samsung plans to officially unveil Neon at CES 2020, so we'll have to wait 11 days to find out what all the mystery is about.