Samsung unexpectedly unveils the retro-looking Notebook Flash, Gigabit WiFi included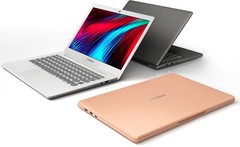 The 13.3-inch Samsung Notebook Flash features a retro-looking keyboard, Gigabit WiFi connectivity, and has been optimized for the network of the South Korean carrier KT. Priced at the equivalent of US$715, this portable will probably not reach other markets, but this is something that remains to be seen.
Although nobody expected this one, the Samsung Notebook Flash simply came out of the blue yesterday. This 13.3-inch notebook has a retro keyboard with keys similar to those used in typewriters, but it also sports Gigabit WiFi connectivity.
Sadly, the Samsung Notebook Flash is only going to hit South Korea, where the price of a unit has been set at KR₩820,000 (around US$715). However, the essential technical specs have not been revealed yet. According to SamMobile, Samsung only mentioned that this portable has a USB Type-C port and Gigabit WiFi for transfer speeds that can reach — at least in theory — 1.7 Gbps. There is also a fingerprint reader and Windows Hello support. The display has a rather standard resolution of 1,920 x 1,080 pixels.
Available in Linen White, Twill Charcoal and Soft Coral finish, the Samsung Notebook Flash is optimized for the network services of the South Korean carrier KT, so it will probably remain exclusively available in the area. To get a better idea about what we are going to miss by not being able to buy this machine — at least in terms of design — you should check out the video below.