Samsung may release a new XCover series phone soon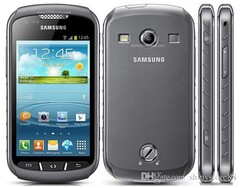 Samsung has reportedly put a device called the SM-G715FN/DS through FCC testing, suggesting that it will be released soon. Some leaks allege that this phone will be marketed as the XCover Pro, thus resurrecting the OEM's line of these toughphones. Its new addition will have Bluetooth 5.0 and a display of about 6.3 inches in size.
The Galaxy XCover series of rugged phones has not been updated since the 4s. Now, it seems Samsung may believe there is a market for more such rugged phones, perhaps due to all the fixed glass rear panels around these days. It has reportedly certified a device rumored to be the XCover Pro with the FCC, which may mean a launch date for this product is not far away.
This new regulatory listing does not offer much detail on the environmental protection this phone may offer. However, we do now know that it has an effective diagonal display surface area of 160 millimeters. Therefore, its screen is not likely to measure much over 6 inches.
This spec suggests that the "XCover Pro" will be mid-range at best. This idea is reinforced by further leaks that allege it will have the Exynos 9611 as a processor with 4GB of RAM. Therefore, should this SM-G715FN/DS truly be a rugged device, its design will need to be robust indeed to draw interest from those in need of a phone to take into extreme or dangerous environments.