Samsung confirms April 10 event, new Galaxy A handsets coming up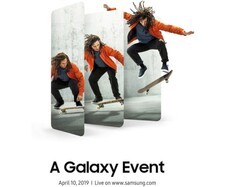 The teaser image that comes with the invite to Samsung's launch event that will take place on April 10 in Bangkok, Milan, and São Paulo suggests that at least three new Galaxy A handsets with different screen shapes will be the stars of the show. However, there are no technical details to talk about at this stage.
Samsung is ready to unveil a few Galaxy A handsets and has just made it official by publishing an invitation to "A Galaxy Event" that will take place on April 10, 2019. While the text that comes with the teaser image does not reveal any technical details, the image suggests that three different screen shapes are involved, so at least three different Galaxy A models should hit the market soon.
Without further ado, this is the essential part of the aforementioned text: "On April 10th, Samsung Electronics will unveil its latest Galaxy A devices designed for the way we communicate in the Era of Live. The reveal will take place in Bangkok, Milan, and São Paulo." Obviously, there is nothing about the number of Galaxy A devices, their specs, prices, color choices, and so on. However, the three display shapes should be enough for now.
Over the last few months, we heard about various A-series Galaxy handsets that Samsung was apparently working on, including the Galaxy A90, Galaxy A50, Galaxy A40, Galaxy A70, and it doesn't stop here. In fact, Samsung could come up with a family that starts with the Galaxy A10 and goes all the way up to the Galaxy A90, especially since three such devices are already available in India.
If the rumors turn out to be true, Samsung will release new Galaxy A devices with and without a notch, starting with a single main camera and going up to a quad-lens setup. These being said, we only need to wait for the next official teasers to figure out more — or simply hang on until April 10, when all the details will be revealed.