Samsung Pay Mini might not offer iOS support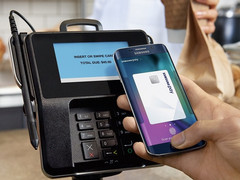 Apple seems to have rejected the Samsung Pay Mini app submitted to the App Store and it looks like Samsung will not resubmit it again for the time being, choosing to focus on the Android client instead. Samsung Pay Mini for Android is expected to launch next month, at CES.
Samsung Pay Mini was expected to bring Samsung's mobile payments service to Apple devices, but it seems that those eager to take it for a spin as soon as possible will have to wait.
According to ETNews, "Apple has rejected registration of 'Samsung Pay Mini', which is a mobile payment system for online payments only, onto its app store." The same source also added that Samsung "has decided not to reapply again to Apple's app store and has decided to focus only on Android markets that cover 85% of global markets for Smartphones."
For now, the reasons behind Apple's rejection are unknown. However, industry analysts think that Apple did it to keep Samsung Pay off its devices for a little longer. Samsung Pay is already more popular than Apple Pay and the only thing keeping away iPhone users from it is the fact that Samsung does not offer an iOS-compatible app yet. However, nothing is official yet, so all the above should be taken with a grain of salt for now.