Samsung Galaxy Note 9 GeekBench results and specs surface online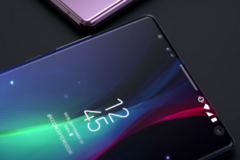 The Note 9 prototype that popped up on GeekBench was pitted against the S9+ and it ended up a bit behind in both single core and multi-core tests. However, the Note 9 featured in the tests comes with 5 GB of RAM instead of 6 and it is powered by a Snapdragon 845 SoC which is known to be slower than the Exynos 9810 SoC that comes with the non-US versions of the Galaxy S9/S9+.
The Samsung Galaxy S9/S9+ seem to be getting great reviews across the board, and, even if the Snapdragon 845 SoC coming with these models is not really on par with the A11 Bionic chips found in the iPhone 8/X smartphones from Apple, Samsung managed to include quite the set of original features that could impress even the most hardcore Apple fans. Samsung is also planning to launch the Galaxy Note 9 with its share of new and enticing features in Q3 this year. The South Korean company managed for the most part to keep spec information away from rumor mill feeders, however, the latest GeekBench test results of a mysterious Samsung model may have just leaked some of the Galaxy Note 9 specs.

According to GeekBench, the Note 9 has the SM-N960U prototype denomination and it was tested against the S9+ Exynos model. Apparently, Note 9 will integrate a Qualcomm Snapdragon 845 SoC and will probably come with 6 GB of RAM, even though the test shows only 5 GB. It will also run Andorid 8.1 out of the box. As far as benchmarks go, the Note 9 does not beat the S9+, but that is consistent with the fact that the Exynos 9810 SoC is a tad faster than Snapdragon 845 in most tests. Thus, the Note 9 scored 2190 points in the single core tests (S9+ scored 3793), while for the multi-core tests it managed to score 8806 (9049 for S9+).

Keep in mind that this is only a prototype, if it is indeed the Note 9. Samsung may tweak many performance aspects before the official announcement and release, so the device could end up faster. The Note 9 is also expected to include an in-display fingerprint reader.