Samsung Galaxy Amp Prime 3 hits Cricket Wireless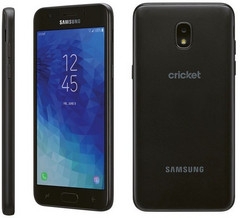 The Samsung Galaxy Amp Prime 3 is a 5-inch handset that features low-end specs such as a resolution of just 1,280 x 720 pixels, 5 MP and 8 MP cameras, 2 GB RAM, and 16 GB of internal storage. On the other hand, many users will enjoy having a removable 2,600 mAh battery, Bixby support, as well as Android 8.0 Oreo out of the box.
The customers who have been with Cricket Wireless for a few years probably remember the Galaxy Amp Prime and its successor, the Galaxy Amp Prime 2. A third handset has just been added to this family, and its name is — unsurprisingly — Samsung Galaxy Amp Prime 3. Just as its predecessors, this new handset is an affordable smartphone with a removable battery that does not stand out from the crowd in any way.
The Cricket Wireless-exclusive Samsung Galaxy Amp Prime 3 is powered by a quad-core Exynos 7570 processor with a clock speed of 1.4 GHz. Next to it, there are 2 GB of memory, 16 GB internal storage and microSD support, a 5 MP selfie shooter, an 8 MP main camera with LED flash, Bixby support, a 5-inch display with 1,280 x 720 pixels, 4G LTE (single SIM), WiFi, Bluetooth, GPS, micro USB 2.0. Fortunately, the operating system chosen is Android 8.0 Oreo, although the phone might struggle in some scenarios with just 2 GB of memory.
In addition to all the above, some might also enjoy the ability to remove the 2,600 mAh battery (or to simply carry a fully charged spare around instead of an external power pack), the pre-installed Samsung+ app that provides one-touch access to community support, not to mention the fairly decent price of US$129.99.
P.S. If this handset looks familiar to you, you might want to take a closer look at the Galaxy J3 (2018).