ZTE Overture 3 coming soon to Cricket Wireless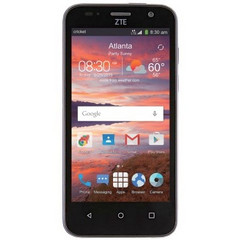 The low-end ZTE Overture 3 is scheduled to hit Cricket Wireless on November 10 for just US$49.99 for new and existing customers, but switchers can get it for free. The only specs revealed so far are a 5-inch display, an unnamed quad-core processor, and a 5 MP main camera.
While most mid-range smartphones one can purchase these days provide an excellent value starting around the US$200 mark, some customers simply want an Android handset that comes as cheap as possible. If they can get one for free, that's even better. The upcoming ZTE Overture 3 is such a handset and those in a hurry should not worry since it is scheduled to hit Cricket Wireless this Friday.
The 5-inch ZTE Overture 3 comes with a quad-core processor onboard and features a 5 MP main camera with flash. The official press release does not say much about the specs and features of this handset, but it also mentions 4G LTE, HD Voice, and FM radio, as well as a Dragontrail scratch-resistant glass protective layer for the screen.
Unconfirmed rumors claim that the ZTE Overture 3 is nothing more than a rebranded ZTE Maven 3 with a slightly updated operating system. According to these leaks, the ZTE Overture 3 runs Android 7.1.1 Nougat out of the box. The specs list of the ZTE Maven 3 includes a Qualcomm Snapdragon 210 processor, a 5-inch display with just 854 x 480 pixels, 1 GB RAM, 8 GB internal storage, microSD support up to 32 GB, and a 2 MP/5 MP pair of front/back cameras.
The specs above are far from impressive, but the US$49.99 price tag makes them quite attractive for buyers on a very tight budget. Even better, those who switch from other carriers can get the ZTE Overture 3 for free (various terms and restrictions apply, those interested should visit a nearby Cricket Wireless store for details). In most cases, the buyer should pay an activation fee of US$25 and a customer assistance fee of US$3, while the Cricket Wireless plans that can be used with the ZTE Overture 3 start at US$30 a month.