CheckBack - scouring the Notebookcheck archives
2008, 2009 and 2010 were the years when affordable Windows computing really started taking off. Asus' EEE-series netbooks as well as low-cost laptops from other manufacturers were selling like hot cakes. They were lightweight and small, yet affordable and fast enough for most mundane tasks. The charge was in large part led by Intel's Atom family processors.
"What else sells like hot cakes", hummed Dell engineers inside an unknown Dell facility. The answer came immediately. Gaming laptops do! They always do.
Soon after that, an idea flashed in one of those engineers' heads. "Why don't we combine a large, powerful gaming laptop and a netbook into a single device?" The Alienware M11x was about to be born.
Over the course of a couple of years, three iterations of the product were released, known as the M11x, the M11x R2 and the M11x R3. Now we are taking a look at the last model in that list because it was so much more powerful than the rest, and also because it was the last 11-inch gaming laptop from Dell/Alienware.
The laptop we tested featured an i7-2657M, a 32 nm Sandy Bridge part, and NVIDIA's GeForce GT 540M, along with 4 GB of DDR3 RAM and a Samsung SSD. The DirectX 11-compatible GPU and its 96 CUDA cores were of particular interest to the target audience, as the Alienware M11x R2 and the Alienware M11x only had GeForce GT 335M to work with, which was a mid-range DirectX 10.1 GPU with 72 CUDA cores. Performance-wise, the M11x R3 was a multimedia laptop rather than a gaming one; it was its relatively small size, together with the usual set of Alienware features, that gave this product a legit right to also call itself a gaming laptop.
Alienware M11x R3 dimensions: 286 x 233 x 33 mm
Of course, each and every M11x R3 came with the Command Center, an app that allowed the user to switch between performance profiles, tune the RGB lighting effects, and do other things proper gaming laptops are known for.
Alienware M11x R3 battery capacity: 62 Wh
Just like the R2 and the R1 before it, the Alienware M11x R3 had an 11.6-inch TN screen with a resolution of 1366 x 768 pixels and that was not at all bright at around 200 cd/m2.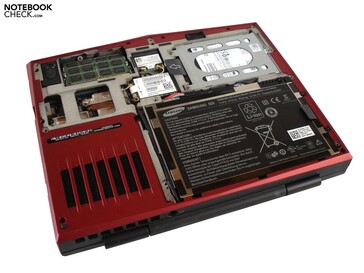 In our review, Notebookcheck's gaming laptop expert, Florian Glaser, noted how the case quality was absolutely great. The mostly plastic 1.95 kg chassis was lovely to hold in one's hands and easy on the eyes indeed, if somewhat prone to small scratches due to its glossy coating. While the screen was one of the few drawbacks of the laptop, the case was definitely one of its strong points.
The model we tested came with a very fast Samsung SSD that allowed for sequential read rates of over 200 MB/s - a great value back then. (As of early 2023, 200 MB/s is still good enough for tablets, laptops, and phones of the cheaper variety; these get equipped with eMMC chips rather than UFS chips or NVMe SSDs). It also had a 2 MP webcam and a gigabit Ethernet port. Windows 7 was pre-installed.
The large battery allowed for decent battery life, which was aided by NVIDIA Optimus support.
The M11x R3's keyboard was great to type on; chicklet-style keyboards with poor feedback were nowhere to be seen in 2011. The touchpad was just as good.
The Alienware was fast enough to run Crysis and Crysis 2 at 1366 x 768 (medium settings). That was no small feat for an 11.6-inch laptop (even if the laptop in question was somewhat chunky). A bit of CPU performance throttling wasn't bothersome enough to prevent the user from enjoying the game. The built-in Klipsch-branded speakers were relatively powerful, making it possible to game with no headphones on.
Last but not least, the laptop had a decent cooling solution. We were able to measure a peak of just under 40 °C on the bottom, and much less than that on the top. There was a bit of an unpleasant hiss to the fan's sound, though.
It appears that sales weren't impressive enough to justify releasing an Alienware M11x R4. Either way, we hope to one day see the R3's successor in our test labs.
Buy the Alienware m15 R7 (Core i7-12700H, GeForce RTX 3060 Laptop) on Amazon
I love reading stuff. I also love dealing with different electronic devices, be that a remotely controlled toy or a new MacBook. When I am not at work, you can try searching for me somewhere in the mountains of Altai Republic, Russia.