Revised AMD Vega 12 achieves OpenCL score of almost 85,000 points in Geekbench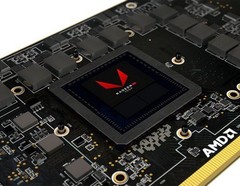 The AMD Vega 12, the GPU that formed the basis of last year's Radeon Pro Vega 16 and Vega 20, has reared its head in one of the stranger recent Geekbench listings. Spotted by @KOMACHI_ENSAKA, the GPU has been tested in what looks like a desktop system and at higher boost clocks than it was previously capable of doing.
Remember the Vega 12? Well, a Geekbench listing has appeared that has got people talking about the GPU found in the Radeon Pro Vega 16 and Radeon Pro Vega 20, the dedicated GPU option for last year's 15-inch MacBook Pro. Initially brought to our attention by prolific leaker @KOMACHI_ENSAKA, the GPU has now seemingly found its way into a desktop setup.
There are plenty of unanswered questions here, not least of which why a mobile GPU is being tested on a desktop motherboard. In a corresponding Reddit thread, people have suggested that AMD could be working on a new Desktop GPU, a re-badged mobile GPU or it even being part a high-end APU.
Either way, we cannot currently see a reason why AMD would resurrect a 14 nm chip when it apparently has newer 7 nm alternatives on the way. Perhaps we have missed something, but this seems like one of the more curious GPU-related things to have appeared on Geekbench recently.