Review Archos Arnova 10b G2 Tablet/MID

There is no doubt that tablets are still en vogue. Apple, the founder of this category, proved this with its recently launched iPad 3. Android tablets however cover all price and quality ranges. At the other end, where focus is placed on a low price, Archos' tablets govern under the name Arnova. Devices of the G2 series, such as the Arnova 7e G2, are already available for just under EUR 100 (125 USD)). The Arnova 10B G2 introduced here is still an entry-level Android tablet although roughly twice as expensive. Nevertheless, it is also likely the cheapest among 10 inch tablets. It is available with both a 4 GB and 8 GB flash memory. The processor core is Rockchip's RK2918 ARM CPU with 1 gigahertz and a 512 MB RAM. A modified Android 2.3 Gingerbread is the operating system. The Arnova G3 series successor tablets are already waiting in the wings – they offer a dual-core chip with the latest Android 4.0 Ice Cream Sandwich.
Case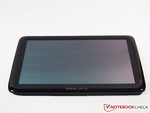 "Designed by Archos" emblazons the rear of the tablet. The German understanding of "designed" applies to devices with attractive looks. However, when correctly translated, it rather means plain in design, which better describes the Arnova 10b G2. The design really cannot be called attractive – it makes a quite basic and functional impression. The tablet's plastic case is glossy and only the inside of the display's frame is roughened and provides a bit of grip. Although the material makes a rather low-end impression, the device is quite stable against pressure and twisting. Four small feet jut out of the rear to give the tablet a bit of grip. Nevertheless, its center has contact to surfaces and the feet do not prevent scratches, which became obvious during our test period. The glossy rear is not only susceptible to fingerprints but also to minor scratches that are very evident when looking closer. This flaw mars the initial good impression of the case.
We can confirm the manufacturer's weight specification of 680 grams (1.5 pounds). Thus the device is on the average of 10 inchers. The slightly older Archos 101 precursor is approximately 140 grams (5 ounces) lighter and the aluminum Asus Transformer Prime even 100 grams (3.5 ounces). Other, better equipped tablets, such as Acer's Iconia Tab A200 or the iPad 3, are insignificantly heavier by around 700 grams (1.54 pounds). With a build height of 12 millimeters, it is comparatively thick and seems a bit bulky – more elegant tablets are thinner with less than 10 millimeters. Nevertheless, the Arnova 10b G2 is pleasant to hold and its weight also does not feel too heavy even after longer use.
Connectivity
All ports and controls are on the tablet's right. In addition to the power button and a tiny hole for resetting the device, there is also a rocker for volume. The micro USB 2.0 socket assists cabled mass memory accessing via PC. Should the 4 or 8 GB memory get too tight, it can be expanded using the micro SD card slot, which is also SDHC compatible. The audio jack is directly beside the power socket. Both have roughly the same diameter and can be confused when not looking closer while inserting the plug. The thin power adapter fits in the jack, but at least it does not cause damage. The audio jack has a gray ring. Since the tablet has a dedicated power socket, it cannot be charged via USB.
Camera
The manufacturer's website specifies a "720p camera" in the tablet. But we cannot confirm this: Both pictures and videos are shot in a fixed resolution of 640 x 480 pixels. Therefore, it can at most be called a 0.3 megapixel camera. The face camera is not suitable for taking pictures anyway – it is better suited for video calls, e.g. via Skype. It also worked perfectly during the test call, but it only supplied a poor picture in this resolution. The internal microphone also only transmits a rather dull sounding quality to the called party.
Software
Android 2.3 Gingerbread is pre-installed on the Arnova tablet. Since the device does not have any mechanical menu controls, the manufacturer fades in a permanent bar on the screen's upper edge. The bar's design is similar to the latest Android 4.0 and also offers the same buttons. If you are accustomed to higher quality tablets or smartphones, scrolling will seem not quite as smooth and a bit jagged, but it nevertheless works without problems.
Another thing that we noticed adversely is that Google's Play Store (formerly Android Market) is not available. Archos relies on a proprietary solution called "AppsLib" which is not as extensive as Google's reference. Therefore, users have created numerous apps for Archos devices that are rooted in the operating system and enable installing Google apps afterward. We could install an older, yet still just as well-functioning version of Android Market following these instructions (German) without rooting the system. Thus, the full range of apps is also available on the Arnova 10b G2.
Scope of Delivery
In addition to the printed quick start guide, there is a micro USB data cable and the power adapter for the tablet included. Additional plugs for UK and USA outlets make the tablet vacation-friendly. Optionally, there are also various covers and the "Archos G9 3g" 3G/UMTS stick available for the 10 inch Arnovas. Archos G9 tablets feature an extra slot for 3G and allow the stick to be integrated into the case seamlessly. The Arnova 10b G2 needs an additional USB host cable for the stick, which is not included in the scope of delivery.
Warranty
The manufacturer gives a one year warranty on the tablet. In cases of damage, the device can be sent back to the manufacturer for repairs. Contact is made via an online form on the website and requires a user account.
Input Devices
Keyboard
Archos only installs the standard Android keyboard. It uses the screen's lower third in landscape mode – keyboard layouts of other devices need more than the half and lets the keys look very stretched on the Arnova tablet. Typing with both hands is possible after a bit of practice, even if it is not touch-typing. The tablet's virtual keyboard is quite convenient to use with both thumbs in portrait mode. Swyping or speech inputs are not available in state of delivery.
Sensors
Our test device features a capacitive multi-touch screen that responds accurately to finger inputs. The screen detects up to two finger tips and thus enables pinch-to-zoom and other finger gestures. These functions and simple scrolling are accomplished quite smoothly in a browser on an opened website. According to the manufacturer's homepage, the Arnova 10b G2 is also available with a resistive screen that requires a stylus. You will probably prefer this version if you would like to use the tablet for entering notes or sketches via a pen.
Probably like every Android device, the Arnova tablet is equipped with a gravitation sensor that, for example, rotates the screen from landscape to portrait mode. This is achieved with an acceptable delay of one second, which is also seen in higher quality models. The tablet does not have a brightness sensor often found in lower-priced devices. The brightness can be virtually set in the same system settings; at least a widget for the regulation provides three different levels.
Display
The display diagonal specification is 10.1 inches. We measured a maximum visible diagonal of approximately 25.4 cm, which is exactly 10.0 inches. Thus, the display has quite a large screen – only exotic devices are bigger. For comparison: The Android leader, Asus' Transformer Prime TF201, has the same size and the iPad 3 is only insignificantly smaller with 9.3 inches. The Arnova 10b G2's resolution of 1024x600 pixels is also quite good. Nevertheless, the pixels are very evident in contrast to higher quality tablets like the aforementioned. This is not very visible on the pictures shown here, though.
The lab values are only middling, as expected from a budget tablet. With an average brightness of 177 cd/m2 and a reflective screen, the tablet is hardly suitable for outdoor use. However, we have to point out that many notebooks below the EUR 1000 (1256 USD) range do not exhibit a higher brightness. The contrast ratio of 409:1 is at least acceptable – the non-plus-ultra tablets have a twice as high rate but there are devices in the lower price range that only achieve half of that. This contrast ratio ensures a quite saturated black value of 0.47 cd/m2.
The viewing angle of the Arnova tablet cannot be called stable. Screen colors quickly invert and fade when the device is tilted. This is no surprise for a 10 inch tablet of this price range and is only a drawback when several people look at the screen, for example when watching a video. Only higher priced top devices (IPS screen) offer virtually full viewing angle stability – their manufacturers like to state a stable angle of over 179 degrees.
Performance
The Arnova 10b G2 harbors Rockchip's RK2918 application processor. The "system on a chip" (SoC) sports an ARMv7 architecture based Cortex A8 core with a clock of 1 GHz and NEON SIMD engine as well as the integrated Vivante GC800 graphics. The chip is built-in a 55 nm technology. Moreover, the graphics unit offers hardware acceleration for Adobe Flash Player 10.1. There is also a 512 MB RAM in the Arnova 10b G2. Nowadays, the Cortex A8 is only used in low-end devices. Dual-core processors based on Cortex A9 dominate the middle price range in the meantime.
As expected, the Android benchmarks show that the Arnova, featuring an outdated single core CPU, cannot keep up with other tablets in terms of performance. In Smartbench 2012's productivity index, the Arnova lags far behind with 459 points. The Cortex A8 can compete with the Nvidia Tegra 250 dual-core, installed in Acer's Iconia Tab, according to the gaming index. At least the pre-installed game "Angry Birds" runs fairly smoothly on the Arnova. Nevertheless, more sophisticated games should run better on tablets with an Nvidia chip.
A similar chip is built into Coby's 7 inch Kyros MID7022 tablet: Telechip's TC8803 with a Cortex A8 single core processor and an ARM MALI 200 GPU. With 931 points in the productivity index, the Kyros manages a slightly better score than the Arnova 10b G2 that only achieves a score of 708. The Arnova achieves 762 points in the gaming index, while the Kyros scored 1306, nearly twice as high. The Kyros only has a slight advantage on our Arnova in Linpack's Android benchmark.
The same Rockchip RK2918 is used in Prestigio's MultiPad PMP5080B – an 8 inch tablet that is a bit cheaper than our Arnova 10b G2. The MultiPad only has a slightly better score of 742 points in Smartbench 2011. It only achieves 598 points in the gaming index despite the same CPU and is outperformed by the Arnova here.
Smartbench 2012
Gaming Index (sort by value)
Archos Arnova 10b G2


GC800, RK2918

Motorola Xoom 2 MZ616


SGX540, OMAP 4430, 16 GB SSD

Asus Eee Pad Transformer Prime TF201


GeForce ULP (Tegra 3), 3, 16 GB SSD

Acer Iconia Tab A200


GeForce ULP (Tegra 2), 2 (250), 16 GB SSD

Productivity Index (sort by value)
Archos Arnova 10b G2


GC800, RK2918

Motorola Xoom 2 MZ616


SGX540, OMAP 4430, 16 GB SSD

Asus Eee Pad Transformer Prime TF201


GeForce ULP (Tegra 3), 3, 16 GB SSD

Acer Iconia Tab A200


GeForce ULP (Tegra 2), 2 (250), 16 GB SSD
Linpack Android / IOS
Multi Thread (sort by value)
Archos Arnova 10b G2


GC800, RK2918

Motorola Xoom 2 MZ616


SGX540, OMAP 4430, 16 GB SSD

Asus Eee Pad Transformer Prime TF201


GeForce ULP (Tegra 3), 3, 16 GB SSD

Acer Iconia Tab A200


GeForce ULP (Tegra 2), 2 (250), 16 GB SSD

Single Thread (sort by value)
Archos Arnova 10b G2


GC800, RK2918

Motorola Xoom 2 MZ616


SGX540, OMAP 4430, 16 GB SSD

Asus Eee Pad Transformer Prime TF201


GeForce ULP (Tegra 3), 3, 16 GB SSD

Acer Iconia Tab A200


GeForce ULP (Tegra 2), 2 (250), 16 GB SSD
Browser Performance
Most users will likely consider the browser to be the most important application in a tablet. Using browser-based benchmarks, a cross-system browser comparison is possible. The Arnova finishes the Sunspider benchmark in over 7 seconds (the lower the rate the better). Other tablets manage this in less than 2 seconds. In return, the tablet with Google V8 Ver 6 achieves a surprisingly good rate of 1363 points. This figure even surpasses devices such as Motorola's Xoom MZ616 or Acer's Iconia Tab A200 and comes quite close to Asus' Transformer Prime with 1649 points. It should also be mentioned is that the browser can cope with flash-based Full HD videos – the video player renders H.264 coded files just as smoothly.
Sunspider
1.0 Total Score (sort by value)
Asus Eee Pad Transformer Prime TF201


GeForce ULP (Tegra 3), 3, 16 GB SSD

0.9.1 Total Score (sort by value)
Archos Arnova 10b G2


GC800, RK2918

Motorola Xoom 2 MZ616


SGX540, OMAP 4430, 16 GB SSD

Asus Eee Pad Transformer Prime TF201


GeForce ULP (Tegra 3), 3, 16 GB SSD

Acer Iconia Tab A200


GeForce ULP (Tegra 2), 2 (250), 16 GB SSD

Apple iPad 1 3G 64GB


SGX535, A4

Apple iPad 3. Gen 2012-03


SGX543MP4, A5x, 64 GB SSD
* ... smaller is better
Browsermark 1.0 - --- (sort by value)
Archos Arnova 10b G2


GC800, RK2918

Motorola Xoom 2 MZ616


SGX540, OMAP 4430, 16 GB SSD

Asus Eee Pad Transformer Prime TF201


GeForce ULP (Tegra 3), 3, 16 GB SSD

Acer Iconia Tab A200


GeForce ULP (Tegra 2), 2 (250), 16 GB SSD

Apple iPad 1 3G 64GB


SGX535, A4

Apple iPad 3. Gen 2012-03


SGX543MP4, A5x, 64 GB SSD
Emissions
System Noise
Being an Android device the Arnova 10b G2 manages without mechanical cooling, there is no fan and the tablet is consequently absolutely noiseless.
Temperature
The visualization shows a clear temperature increase on the tablet's left. This is noticeable when holding it for a while. Right-handed users will hold the tablet in their left hand – exactly in the area that heats up. Although you will not scorch your fingers, you will have to reposition the tablet a bit when using higher performance applications, e.g. playing "Angry Birds", because the measured 38 degrees Celsius can get quite uncomfortable. Lighter performance applications are quite tolerable as the temperature is only felt slightly when reading an eBook or surfing a bit on the Internet.
(+)
The average temperature for the upper side under maximal load is 25.7 °C / 78 F, compared to the average of 30.6 °C / 87 F for the devices in the class Tablet.
(+)
The maximum temperature on the upper side is 30.7 °C / 87 F, compared to the average of 34.6 °C / 94 F, ranging from 22.2 to 53.2 °C for the class Tablet.
(+)
The bottom heats up to a maximum of 38 °C / 100 F, compared to the average of 34.1 °C / 93 F
(+)
In idle usage, the average temperature for the upper side is 25 °C / 77 F, compared to the device average of 30.6 °C / 87 F.
Speakers
In terms of sound quality, most mobile devices are only adequate? – thus expectations on a tablet from the lower price range have to be reduced accordingly. The speaker on the right edge lacks basses for a full sound. However, the volume is sufficient for watching a video without restrictions. Active speakers or headphones are also recommended for the Arnova 10b G2 if you put value on better sound.
Battery Life
Power Consumption
Regarding power consumption, the tablet is within the same range as stronger devices. With a minimum consumption of only almost 2 watts, the device is quite energy-efficient. The maximum rate reaches up to 7 watts, though. High-end tablets only surpass this by 2 to 3 watts. The included power adapter supplies up to 10 watts and is thus absolutely sufficient.
Power Consumption
Off / Standby

0.8 / 1.6 Watt

Idle

1.8 / 4.1 / 4.2 Watt

Load

5.5 / 7.7 Watt




Key: min:

, med:

, max:

Voltcraft VC 940
Battery Runtime
The battery life was recorded with the simple app "Battery Logger". To determine the maximum battery runtime, a script is run in the browser that opens a text document. The screen brightness is set to the minimum level and Wi-Fi is disabled. The Arnova nearly lasted for exactly 6 hours here. We could surf on the Internet for about an hour less with 5 hours and 3 minutes. A script that opens differently sized websites is run for this. The minimum runtime is determined by using the app "Stability Test" that generates as much load as possible using a 3D application. The tablet lasted for 3 hours and 46 minutes here.
Other tablets might achieve longer runtimes, but we do not have many comparison devices from the EUR 200 (250 USD) range. We tested Amazon's Kindle Fire, but it is only a 7 incher and uses a proprietary operating system. It is possible to surf an hour longer with Amazon's tablet just like with Motorola's Xoom 2 MZ616 – it lasted for 6 hours and 17 minutes in the surf test.
Batteries with higher capacities are used in high-end tablets. A 42.5 Wh battery is installed in the new iPad 3 and roughly has the capacity of a notebook battery. It lasted for a whole 9 hours and 30 minutes in the Wi-Fi surf test. The Android counterpart Asus Transformer Prime can serve with an additional battery in the keyboard dock. The tablet's 25 Wh battery managed almost 10 hours without it.
Verdict
The Arnova 10b G2 makes a solid overall impression for an entry-level device. While the dual and quad-core "arms race" keeps the prices of high-quality tablets soaring in the high-end range, Archos closes a gap in the price war sector by making the 10 incher's price of EUR 200 (250 USD) unrivaled low. The battery life is not exactly long, but long life cannot really be expected from a budget device anyway. The model diversity is also pleasing – the tablet is available with a 4 or 8 GB internal memory as well as with a capacitive or resistive screen.
Nevertheless, the tablet has a few minor flaws. The glossy plastic case looks quite stable, but is not resistant against smaller scratches. Even if they are only seen when looking closer, they are unavoidable on a tablet that you stuff in your bag on the fly or lay on a table. The display also looks quite pixellated – even in the acceptable resolution for a 10 inch tablet and you must look at it from the front because the stable viewing angle is rather narrow. Another flaw is Google's omitted Play Store (formerly Android Market) at first. It has to be awkwardly retrofitted when needed and thus reduces the advantage of the widely used Android operating system.
Not every user needs a tablet with smooth 3D gaming performance or a screen resolution that is even higher than Full HD. Many are satisfied with a device for simply surfing, reading, listening to music or watching videos. Rockchip's RK2918 with a single core processor is enough for this even if it no longer belongs to the newest chips for mobile devices. Overall, the Arnova 10b G2 satisfies simple needs quite well and does not have any major weaknesses that would prevent us from giving it a purchase recommendation.
Review unit courtesy of ...