Razer's upcoming AMD-powered 14-inch laptops might get low-TGP RTX 3000 dGPU options only, R9 5900HX + RTX 3070 Max-Q configuration spotted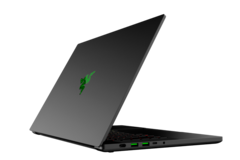 Views, thoughts, and opinions expressed in the text belong solely to the author.
We already know Razer is finally going to release AMD-powered laptops, as a PI411 model sporting an R9 5900HX + RTX 3060 configuration was spotted last week in the wild. Razer is among the few laptop OEMs that has remained loyal to Intel for such a long time, but AMD's Ryzen 5000H processors are now presenting quite the compelling value proposition compared to Intel's mobile portfolio, such that even Razer is ready to succumb to Team Red's charms. Razer's PI411 laptop that made an appearance in the 3DMark Time Spy benchmark is supposed to be one of those slim and light 14-inch models that cannot really support high TGP dGPUs. RTX 3060 is a decent mobile solution, yet it might not be the top option, since a new 3DMark database entry for the same model number appears to feature a more powerful dGPU.
Twitter user _rogame is closely watching the 3DMark database and recently discovered a new entry showing the Razer PI411 laptop sporting an R9 5900HX + RTX 3070 Max-Q dGPU configuration. Now, we are aware that there are so many TGP variants for the new RTX 3000 mobile dGPUs, and if we take a look at the chart compiled by VideoCardz, we can see there are three RTX 3070 Max-Q variants that are slower than at least four RTX 3060 Max-P versions. There is also an RTX 3080 Max-Q dGPU that is right above the fastest RTX 3070 Max-Q, but still slower than those four RTX 3060 Max-P variants. Considering that Razer's 14-inch laptops are advertised as the slimmest and lightest gaming models on the market, we are not sure how Razer is supposed to fit higher-TGP dGPU variants in these new AMD-powered models. Unless there is some vapor chamber cooling system involved, Razer is most likley going to use a low-TGP RTX 3060 in order to justify the upgrade to one of those RTX 3070 Max-Q variants. It remains to be seen if Razer manages to offer the RTX 3080 Max-Q option, as well.
There is also the possibility of redesigning the chassis and making them a bit thicker. Otherwise, Razer will need to sacrifice dGPU performance over portability and, given the Razer price premium, these models might not stand a chance against the Lenovo Legion 5 Pro and Legion 7 that pack Max-P dGPUs.
Buy the Razer Blade 15 Base Gaming Laptop with i7-10750H and RTX 3060 on Amazon
Top 10 Laptops
Multimedia, Budget Multimedia, Gaming, Budget Gaming, Lightweight Gaming, Business, Budget Office, Workstation, Subnotebooks, Ultrabooks, Chromebooks
under 300 USD/Euros, under 500 USD/Euros, 1,000 USD/Euros, for University Students, Best Displays
Top 10 Smartphones
Smartphones, Phablets, ≤6-inch, Camera Smartphones
Views, thoughts, and opinions expressed in the text belong solely to the author.