Razer opens its first brick and mortar store in Europe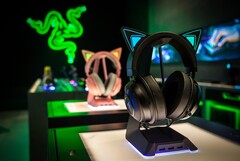 Razer has opened its first shop in Europe, giving fans the chance to experience all its laptops, peripherals and clothing in one place. Located in London's West End, the store covers over 3,700 square feet split across two floors. The store not only showcases the company's products, but also gives gamers the chance to play games like Fortnite to their heart's content.
Razer opened its London flagship store over the weekend, its first in Europe. Over 2,000 fans gathered on Saturday to witness the opening of the over 3,700 square foot store, which Razer has split across two floors. YouTubers Hat Films, PyroCynical and Syndicate were also in attendance to mark the public unveiling of the company's sixth brick and mortar store.
Located just a few minute's walk from Leicester Square in London's West End, the store contains a plethora of Razer-branded products, including its infamous Quartz Pink series. The store is more than just a showcase of its laptops, peripherals and clothing though, as Razer has decked out the basement with a streamer's booth and a host of desktops on which to play Fortnite among other games.
We had a chance to roam the store before its official unveiling, and we were impressed by what Razer had done with the space. While Apple and Microsoft have opted for a light and airy feel to their London stores, Razer has kept its consistent with its brand image. The sea of RGB lights in the downstairs area is a particularly mesmerising sight to behold, and one that is worth checking out in its own right.
Chatting to staff at the event, it seems that Razer chose the West End because of its high footfall and proximity to what it considers other lifestyle brands in the area. The company even hinted that its London store could be the first of more in Europe, but staff would not elaborate further. Head down to 51-53 Charing Cross Road, WC2H 0NE, if you fancy checking it out.