Razer Blade Pro Series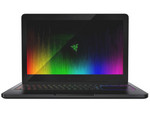 Processor:
Intel Core i7 4700HQ, Intel Core i7 4720HQ, Intel Core i7 6700HQ, Intel Kaby Lake i7-7700HQ, Intel Kaby Lake i7-7820HK
Graphics Adapter:
NVIDIA GeForce GTX 1060 Mobile, NVIDIA GeForce GTX 1080 Mobile, NVIDIA GeForce GTX 765M, NVIDIA GeForce GTX 860M, NVIDIA GeForce GTX 960M
Display:
17.30 inch
Weight:
3kg, 3.07kg, 3.13kg, 3.54kg, 3.6kg
Price:
1800, 2000, 2300, 3900, 4199, 4500 euro
price: 90%, performance: 93%, features: 60%, display: 89%, mobility: 77%, workmanship: 88%, ergonomy: 85%, emissions: 80%
Razer Blade Pro 17 inch
Specifications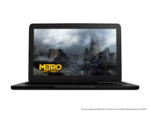 Notebook:
Razer Blade Pro 17 inch
Processor:
Intel Core i7
4700HQ
Graphics Adapter:
NVIDIA GeForce GTX 765M
Display:
17.30 inch, 16:9, 1920 x 1080 pixels
Weight:
3kg
Price:
2000 euro
Links:
Razer homepage
Blade Pro 17 inch (Model)
Pricecompare
Average Score:
Average of 4 scores (from 8 reviews)
Foreign Reviews
Razer Blade Pro 17 inch, GTX 860M
The Razer Blade Pro returns with minimal changes from its predecessor, focused on improving a stunning piece of equipment to greater heights. When compared side by side, there aren't many visible differences between the Razer Blade Pro of 2013 and 2014 right out of the box. Its shade of green from the logo to the USB slots looks great against the sleek and sturdy aluminum casing. It is one of the thinnest gaming laptop in the market at only 0.88 inches (2.24 cm), and is rather light compared to competing gaming laptops such as Alienware 17 or the Krypton. It uses a 17 inch LED backlit screen with a 1920 x 1080 resolution. Unsurprisingly, the Razer Blade is equipped with a top of the line Nvidia 860M graphics card and 4th gen i7 Quad Core processor, which seems to be the gold standard for the best gaming laptops that the market has to offer. What sets apart the Razer Blade Pro from other gaming laptops is the SwitchBlade. The SwitchBlade is a combination of a low resolution touchscreen display and 10 LCD buttons. It is meant to be used for minor multitasking while gaming, such as browsing Youtube videos or Twitter. The battery life has also been extended compared to its predecessor with Battery Boost software that adjust power consumption of the GPU to maintain FPS in games.
Specifications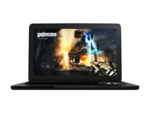 Notebook:
Razer Blade Pro 17 inch, GTX 860M
Processor:
Intel Core i7
4700HQ
Graphics Adapter:
NVIDIA GeForce GTX 860M
Display:
17.30 inch, 16:9, 1920 x 1080 pixels
Weight:
3kg
Price:
1800 euro
Links:
Razer homepage
Blade Pro 17 inch, GTX 860M (Model)
Pricecompare
Average Score:
Average of 3 scores (from 3 reviews)
Razer Blade Pro 17 inch 2015
Never has there been such intense power packed into such a slim and portable casing, but Razer has proven the naysayers wrong by packaging a laptop that is powerful enough for gaming but portable enough for everyday work. It is only 2.2 cm thick and weighs slightly less than 3 kg. So, its weight and height are lower than mainstream gaming laptops' elsewhere. It comes with an enormous, anti-glare 17.3 inch screen with a 1920 x 1080 resolution. This machine houses 47 watt quad core Intel i7 processor, an NVIDIA GeForce GTX 960M graphics, 16 GB of RAM and a dual storage system consisting of a 128 GB ultra-fast SSD storage (up to 512 GB) and a secondary 1 TB hard drive. All these contribute to an immersive gaming experience. However, needless to say, gaming laptops are notorious for generating an insane amount of heat. To alleviate the heating issues, engineers have designed the laptop in such a way that heat is directed away from the keyboard area. Lastly, the main star of the laptop is an integrated touchpad on the keyboard panel that not only functions as control pad but can be used in conjunctions with the Switchblade UI and function as a trackpad and alternative control point. All these impressive features make the Blade Pro really stand out as a gaming laptop.
Specifications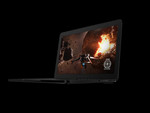 Notebook:
Razer Blade Pro 17 inch 2015
Processor:
Intel Core i7
4720HQ
Graphics Adapter:
NVIDIA GeForce GTX 960M
4096 MB
Display:
17.30 inch, 16:9, 1920 x 1080 pixels
Weight:
3.07kg
Price:
3900 euro
Links:
Razer homepage
Blade Pro 17 inch 2015 (Model)
Pricecompare
Average Score:
Average of 4 scores (from 4 reviews)
Razer Blade Pro 2016
The Razer Blade Pro 2016 is a gaming rig which surpasses its contemporaries. At first glance, it retains its quintessential black exterior with its dim, green logo emblazoned in front. Compared to other gaming laptops which are prominently angular with sharp edges, the Razer Blade Pro retains a minimalistic, polished finish. Compared to other gaming laptops, it is also much sleeker and less chunky. It doesn't have any of that fancy air vents or sharp angles running on its lid. It is built on an aluminium chassis which is solid and robust. Its dimensions measure at 42.42 x 27.94 x 2.29 cm and weighs 3.54 kg. It is fitted with a mechanical keyboard and one interesting feature of the keyboard is Chroma, Razer's vibrant multi-color backlighting that can be programmed to respond to in-game prompts. The key colors are highly customizable. To the right of the keyboard, there is a wide touchpad which is smooth and responsive, but it isn't really suitable for a left handed person. Nevertheless, a gamer who uses this laptop will most probably use a gaming mouse anyway. It boasts a 17.3-inch (3840 x 2160 pixel resolution with G-Sync) screen which displays incredible, Full HD visuals, a condition which is essential for gamers, and on top of that, it is touchscreen. Visuals rendered are sharp and crisp with remarkable clarity. Razer has indeed not compromised on the Blade Pro's specs. It is powered by the 6th gen Intel Core i7-6700HQ quad-core processor. This powerful CPU is coupled with the Nvidia GeForce GTX 1080 GPU and 8 GB of GDDR5X VRAM. In addition, it features 32 GB RAM and a 512 GB SSD storage (upgradable to 1 TB/2 TB). Running VR games on such specs is a given. The Killer DoubleShot Pro technology on the Wi-Fi antenna maximizes bandwidth to provide optimal gaming speeds. Razer has also managed to keep temperature under control with its unique vapor cooling system in order that the machine is kept from sporadic heating up even when rendering massively intensive games. In addition, the 2016 Razer Blade Pro is loaded with blazing fast connectivity as it is fitted with three USB 3.0 ports, a HDMI 2.0 port, a Thunderbolt 3 port as well as an SD card slot. It comes with a sizeable 99 Wh lithium-ion polymer battery, which provides gamers with the much-needed juice for extended gaming. It lacks an optical drive, but this does not make the Blade Pro any less inferior. It is priced on the higher side even for a hardcore gaming laptop mainly due to its sleeker outlook and cooling capabilities. Although it is smaller and bulkier than its rival at Dell, in many ways it is still a powerful desktop fitted into a laptop and thus, it will remain a desirable device to many serious gamers. Hands-on article by Jagadisa Rajarathnam
Razer Blade Pro 2016
Most people think that there is always a separation between laptops and PCs for gaming because they suppose that laptops are not as powerful as PCs when it comes to gaming. Yet, Razer completely changed user's mind when introducing the most extraordinary laptop ever - the Razer Blade Pro 2016. Looking through the specifications of this laptop, users would definitely have to compliment on not only the incredible features but also the premium design. The Razer Blade Pro 2016 is considered as "desktop-like power in a thin and light package" (TechRadar). Coming with the quad-core Intel i7-6700HQ, the discrete graphics card - NVIDIA GeForce GTX 1080 and 32Gb of RAM, it is devilish to everyone. But the most amazement comes from the design: a superior gaming laptop built in an enticingly thin, unique design with a thickness of only 22.5mm. Are you amazed? Yes, certainly it is able to conquer most users, especially gamers. However, its price is pretty expensive at around 4000 Euros.
DESIGN AND CONNECTIONS
Borrowing the design from the standard Razer Blade, sporting a slim, black chassis that puts rival gaming laptops to shame, as a comment on the page TrustedReviews states, the Razer Blade Pro 2016 is, in fact, only 22.5mm thin, which is just 4.5mm thicker than an Apple MacBook Pro, and just 5.5mm thicker than an Apple Macbook Air. Meanwhile, the page LaptopMag said: "It's not that the Blade Pro is a grand departure from prior Razer laptops. On the contrary, it looks just like the Blade and Blade Stealth - just bigger. The entire frame is still made of that inky-black CNC aluminum that I've come to know and love." TechSpot's reviewer supposed that if the original Razer Blade was an exercise in compromise, the 2016 Razer Blade Pro was about seeing how much power could be stuffed inside of a 17-inch wide, 11-inch deep and 0.88-inch high aluminum housing without killing anyone. Also, this laptop, as remarked by the page TechRadar, is startlingly portable for a 17-inch gaming laptop - weighing just 6.76 pounds (3.07kg) considering its size and density. For the connections, Razer built the Blade Pro 2016 with diverse options for user, such as: Thunderbolt 3, USB-C, three USB 3.0 ports, HDMI 2.0 video and audio output, an SDCX card reader, and Ethernet port and Bluetooth 4.1.
DISPLAY
According to TechRadar, the Razer Blade Pro's most alluring feature is its 17.3-inch IGZO display, which, besides the 4K resolution, also supports 100% of the Adobe RGB spectrum, multi-touch control and NVIDIA's frame-rate-smoothing G-Sync tech. And as a review on LaptopMag mentions, thanks to its dramatic hues and fine detail, the Blade Pro's 4K (3840 x 2160) touch display is captivating. The author of this article said when he watched the 4K movie "Tears of Steel", he could see the fine scratches and pockmarks in the paint on a forest-green bridge. Similarly, "The 2016 Blade Pro's 17.3 inch IGZO 4K display is one of the best displays you can put on a laptop. Colors are rich and vibrant, blacks are deep and dark. The panel features 100% Adobe RGB coverage, which is great for folks looking to spend a little time editing photos and videos during gaming breaks" (Evaluation from TechSpot). However, for the page LaptopMag, the 4K touch screen of this notebook wasn't enough, so its panel is also outfitted with NVIDIA's G-Sync technology. This page explained that, as on other laptops, G-Sync matches the laptop's display rate with the graphics card, essentially placing a frame cap that matches the panel limit. That makes for near-instant rendering in both full-screen and windowed modes, eliminating the tearing and ghosting you sometimes experience on other laptops. Moreover, "The Blade Pro also happens to be equipped with Razer's brightest display yet. While indoors, we hardly had to bump up the backlight past 30%. Even at 50% screen brightness, this 17-inch screen easily overpowered any bright winter sunlight coming through our office windows," said TechRadar.
KEYBOARD AND TRACKPAD
As commented on TechRadar, "Rather than positioning the trackpad beneath the keyboard, the Blade Pro's pointing device is beside it on the right-hand side. More than once, we found ourselves tickling the surface below the keyboard, but it does not to take too long to get over this phantom pain." In fact, within an hour of playing with the Blade Pro, TechRadar's reviewer was accustomed to the trackpad's new placement, and could say it is the best one they've used on a laptop this year. Nevertheless, LaptopMag's reviewer was a little disappointed that Razer had got rid of the LCD touch panel/second display and Dynamic Adaptive Tactile Keys of the original Blade circa 2012 - especially when Apple is touting its Touch Bar. It had taken LaptopMag's reviewer some time to get used to the new placement of the touchpad, and he found the touchpad was agile and responsive when performing two-finger scroll and pinch-to-zoom gestures. The writer on TechSpot, in contrast, said that he would admit that even after a week of regular use, his hand still attempted to tap the naked center below the Blade Pro's keyboard, but for the most part he was comfortable with the unit's generous multi-touch touchpad where it was. Also on this page, the reviewer stated: "Best of all, it's not the LCD screen with customizable LED buttons that used to come on the Blade Pro line, meaning I do not have to mess with configuring everything, my right hand is never covering a display and the laptop uses less power overall."
About the keyboard, TechRadar said, "The keyboard may look like the standard chicklet layout we've seen on past Razer devices. But, tap on any of the keys, and you'll feel and hear the sweet sound of a mechanical switch. Keys sink in with a tactile and satisfyingly audible click. In addition to having a true actuation and reset point, the switches help the keyboard feel more like the one you'd find attached to your gaming rig at home." A commenter on this page also noticed that Razer's completely customizable Chroma lighting scheme makes its return with 16.8 million colors, and this time, it's been expanded to the track of lighting around the touchpad and you can now set up a rainbow to run a ring around the pointing device. As can be remarked on LaptopMag, the reviewer wished that the keys had a bit more key travel. At 0.9mm (1.5 to 2mm is optimal) and 66 grams of force needed to press the keys, typing was a rather shallow experience. He had to press harder than normal to make all of the keystrokes register. "Outside of awkwardly cramming a full-sized keyboard onto an already over-sized laptop, it's hard to find a gaming laptop with a delightful clickiness of mechanical key caps," stated TechSpot. But in general, as could be viewed on the page CNet, each key of the keyboard as well as trackpad and media controls are individually backlit and you can select how they're lit from 16.8 million possible colors by using Razer's Synapse software.
SOUNDS
For a laptop, in TechRadar's opinion, "The Razer Blade Pro sounds surprisingly good, too. The 17-inch gaming laptop comes with dual-firing, 2-watt speakers enhanced with a larger speaker box and added pre-amp. Additionally, on both sides of the notebook, you'll also find a pair of smaller side speakers to help and add an extra layer of surround sound." And the reviewer at LaptopMag also said that, equipped with a dual-firing speaker system, the Blade Pro easily filled his bedroom with rich, clear audio. The two top-mounted speakers are fleshed out by a pair of slim, side-mounted speakers. The quad-speaker setup helped the system deliver a surround-sound effect. That author also remarked that when listening to Anderson Paak's "Am I wrong", he was treated to the singer's velvety tenor floating over a rich keyboard, synthesized strings and lively drums. After switching among the Dolby Audio presets, he found that "Gaming" delivered the warmest sound overall.
PERFORMANCE
Equipped with a 2.6GHz Intel Core i7-6700HQ processor, as commented on LaptopMag, the Blade Pro stood up against the writer's demanding multitasking needs with relative ease. Despite opening 16 tabs in Google Chrome, one of which was streaming an episode of "Black Mirror", he didn't notice any lag when he started running a full system scan and switching among tabs. Similarly, TechRadar said: "The Razer Blade Pro is one of the thinnest and speediest 17-inch laptops we've tested. It's a performance machine that easily cut through any task we asked it to complete, whether it was enjoying the Winter Wonderland in Overwatch or editing 360-degree footage we recorded with a Nikon Key Mission 360 camera." LaptopMag added an opinion that outfitted with an NVIDIA GeForce GTX 1080 and 8GB of VRAM, the Razer Blade Pro is ready for any boss battle you can throw at it. In the "Rise of the Tomb Raider" test at 1080p resolution, the Blade Pro achieved 65 fps. However, in 4K ultra, for TechRadar's evaluation through performance testings, their benchmark games hit an upper limit of 28 frames per second, which is still a playable experience, though not as ideal as 60 fps. For now, with just a single GTX 1080, it seems we still can't play the latest games at a super smooth frame rate with Ultra settings at 4K. It beats "every 1060- and 1070-class laptop. Not every 1080-equipped laptop though, and therein lies the rub. Throughout our time with the Blade Pro, we noticed that although it beats out the 1070, we're not quite seeing full 1080 performance. For example, the 1080-equipped MSI GT73VR Titan scored 9514 over 7909 points in 3Dmark Firestrike, the Origin EON17-X 9637. Those laptops have better processors, but that can't quite explain the discrepancy," the page PCWorld evaluated.
HEAT AND BATTERY LIFE
According to LaptopMag's review about thermal problems, "As pretty as an all-aluminum chassis can be, it's also a big heat conductor. The laptop still got a bit warm with the center of the keyboard measuring 103 Fahrenheit degrees. But I still used my laptop more than an hour rather comfortably." Notwithstanding, like other slim laptops, as a remark from PCWorld, the Blade Pro 2016 has a heat problem. The reviewer shared his experience that we will still notice the aluminum frame getting hotter and hotter as we put it under load. The laptop's going to throttle down to try and keep its parts from overheating, which could be an explanation for the good but not necessarily full-1080 performance in all applications.
About the battery, the Blade Pro lasted only 2 hours and 45 minutes on continuous web surfing over Wi-Fi as a test of LaptopMag. Yet for TechRadar's test, the reviewer noted that it still lasted for 3 hours and 20 mins with light usage, including writing the review and browsing the web while at 30% screen brightness. Overall, battery life is better than we expected, considering the energy draw of this laptop's high-powered components and 17-inch 4K screen topped off by Razer's thin design.
To sum up, TechRadar concluded that the Razer Pro is arguably the ultimate desktop replacement that you can carry around. The thinner frame, lighter weight, smaller power supply and longer battery life, all help make this 17-inch machine something we would actually consider to be portable. This laptop, the 2016 Razer Blade Pro could be rated as "the best portability-to-power ratio on the market right now" (PCWorld) because of its advantages to users. In my opinion, Razer actually created a super high-end laptop with the slim and sleek chassis, the beautiful 4K screen, the customizable Chroma keyboard, and the good overall and graphics performance. But the notebook still has a few flaws, such as the heat or the shallow mechanical keyboard. However, the Blade Pro is exceptional, especially for gamers who want a portable powerful notebook despite the expensive price. Finally, "The Blade Pro is a kickass laptop, but a 3699$ starting price (4199 Euros in European countries) is sure to put a serious hurting on most wallets. However, for a true mix of power and portability, the Razer Blade Pro should be on your shortlist" (LaptopMag).
Press review by Capuchino Saber
Specifications
Notebook:
Razer Blade Pro 2016
Processor:
Intel Core i7
6700HQ
Graphics Adapter:
NVIDIA GeForce GTX 1080 Mobile
Display:
17.30 inch, , 3840 x 2160 pixels
Weight:
3.54kg
Price:
4199 euro
Links:
Razer homepage
Pricecompare
Average Score:
Average of 7 scores (from 21 reviews)
Foreign Reviews
Razer Blade Pro 2017
Razer's flagship 17-inch gaming laptop is getting a handful of 2017 upgrades. Razer is also claiming this is the world's first THX-certified laptop, which means it gets a stamp of approval from the audio/video standards company. Most notable among the upgrades is a move to new seventh-gen Intel Core i7 processors; specifically, the one used here is an overclocked Core i7-7820HK. The 32GB of RAM gets a small speed boost, from 2,133MHz to 2,667MHz. The Blade Pro looks like a stretched version of the company's 14-inch Blade. It is a clean look, especially with its all-black colour scheme and uninterrupted lines. Aside from Razer's glowing logo on the lid, the chassis is almost devoid of design accents. The thinness, however, is where this model really shines. At 0.88 inch, Razer says the Blade Pro is the thinnest notebook to wield a Nvidia GeForce GTX 1080 graphics card. Weight-wise, the Blade Pro's aluminum unibody chassis lands at 7.8 pounds. The display's long hinge is attached to the back of the chassis to keep as low of a profile as possible. It can be opened with one finger. Despite this, the display hinge is stiff enough to prevent display wobble when the screen is poked or swiped. That is important because the Blade Pro has a touch-sensitive display. The hinge allows the display to tilt back about 45 degrees.
Like the previous Blade Pro, the 4K 17-inch display supports Nvidia's G-Sync technology for less screen-tearing and runs the same Nvidia GeForce 1080 graphics card. The display panel itself is of the Indium Gallium Zinc Oxide (IGZO) variety, a thinner alternative to the In-Plane Switching (IPS) displays. Razer says this display covers 100 percent of the Adobe RGB color space, which is notable; the Adobe RGB color space is wider than the more commonly referenced sRGB. That makes the Blade Pro especially well-suited for precision graphics work such as photo editing. Users also get the same low-profile mechanical keyboard with extremely customizable backlighting. The touchpad is still off to the side, which is one of the most unusual things about this very thin gaming laptop. The 2.0-megapixel Webcam above the display panel is of reasonable quality, but unfortunately, it doesn't support Windows Hello for facial recognition in Windows 10. The Blade Pro covers its bases when it comes to port selection. The left edge has the reversible power connector, a LAN jack, two USB Type-A 3.0 ports, and audio/microphone combo jack. The rest of the connectivity is on the right edge, where there is a full-size SD-card reader, USB Type-C with Thunderbolt 3 support, the third and last USB Type-A 3.0 port, an HDMI 2.0 port, and the Kensington-style cable lock slot. The 2.0 nature of the HDMI port here is important, as it allows 4K output at 60Hz. The Razer Blade has always been the benchmark in its category. The 2017 version brings all the necessary improvements to maintain its status. For those without a budget, this is definitely one of the best gaming laptops to look out for.
Hands-on article by Jagadisa Rajarathnam
Specifications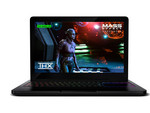 Notebook:
Razer Blade Pro 2017
Processor:
Intel Kaby Lake i7-7820HK
Graphics Adapter:
NVIDIA GeForce GTX 1080 Mobile
8192 MB
Display:
17.30 inch, 16:9, 3840 x 2160 pixels
Weight:
3.6kg
Price:
4500 euro
Links:
Razer homepage
Pricecompare
Average Score:
Average of 10 scores (from 18 reviews)
Foreign Reviews
Razer Blade Pro RZ09-0220
Gaming laptops has been coming more and more famous over the past few years. However, the typical gaming laptop isn't usually good for work purposes. Nevertheless, that's what the Razer Blade Pro RZ09-0220 is attempting. The entire laptop is hewn from black, matte, machined aluminum. The lid has the familiar green Razer logo, and that's it when it comes to loud ornamentation. Elsewhere there's only a subtle Blade logo and a round power button. The lid is perfectly balanced, which means it can be opened with a fingertip. Build quality is great, with no noticeable give in the area around the keyboard or the base panel, and the screen feels sturdy. Impressive dimensions only improve the solid build quality and the impressive aesthetic. The Razer weighs 3.07 kg and it's 23 mm thick. There's no doubt about the Blade Pro's design when it's lined up against the MSI GE73VR 7RG Raider. Razer's machine has three USB 3.1 connectors, a card reader, and a Type-C port, and it's got an HDMI output. Connectivity is good, too. Gaming experts Killer provide the Gigabit Ethernet and dual-band 802.11ac wireless. The Blade Pro is expensive, but its internals are not ground-breaking. The Nvidia GeForce GTX 1060 provides the graphical power. It's a competent mid-range chipset that uses the Pascal architecture. The GTX 1060 has 1,280 stream processors with a 1,404 MHz core speed, and it can reach a Turbo peak of 1,670 MHz. A Core i7-7700HQ sits alongside the Blade Pro's GTX 1060. It's the same processor that was in the MSI, and its four Hyper-threaded cores run at 2.8 GHz with a boost peak that's 1 GHz higher. It remains a great chip that will run almost any application and won't bottleneck games. There's 16 GB of DDR4 memory, which is fine for most work tasks and all games. As for storage, there's a 256 GB Samsung SSD and a capacious 2 TB hard disk. The Razer's Full HD resolution looks sharp enough on the 17.3-inch panel. The IPS panel underneath should ensure solid quality, and the matte finish works well for gaming. The 120 Hz refresh rate improves smoothness. However, Razer hasn't fitted this machine with Nvidia G-Sync, so the screen could have been even smoother. It's the same setup as the MSI screen, which had a 120 Hz operation but no syncing. Instead of installing the trackpad beneath the keyboard, it's positioned alongside the buttons. It looks odd at first, but it makes sense. The right-hand position of the trackpad mimics how most people use their PCs when they're working and gaming. Because the trackpad is pushed up, the keyboard is moved to the left. The buttons are consistent and responsive, and they're quiet and comfortable. They have ample travel for a Chiclet design, and each key has an RGB LED that can be customized in software. The Blade Pro's repositioned trackpad offers great quality, with a smooth surface, responsive buttons and a smooth scroll-wheel. Hands-on article by Jagadisa Rajarathnam
Specifications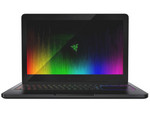 Notebook:
Razer Blade Pro RZ09-0220
Processor:
Intel Kaby Lake i7-7700HQ
Graphics Adapter:
NVIDIA GeForce GTX 1060 Mobile
6144 MB
Display:
17.30 inch, 16:9, 1920 x 1080 pixels
Weight:
3.13kg
Price:
2300 euro
Links:
Razer homepage
Pricecompare
Average Score:
Average of 14 scores (from 20 reviews)
Foreign Reviews
Comment
Razer: Razer USA Ltd. is an American hardware manufacturer founded in 1998. The focus is on gaming devices as well as accessories; traditionally computer mice. The products were often named after fables or animals. However, Razer also offers laptops under the series name "Blade".
There are reviews on the Razer Blade series since 2013, but not overly many. The market share in the laptop market is low and the ratings are average (as of 2016).
---
Modern games should be playable with these graphics cards at low settings and resolutions. Casual gamers may be happy with these cards.
NVIDIA GeForce GTX 765M:
High-End Graphics cards as part of the Geforce 700M series based on the Kepler architecture.
NVIDIA GeForce GTX 860M: Upper mid-range graphics card from the GeForce GTX 800M series.
NVIDIA GeForce GTX 960M: Upper mid-range graphics card of the GeForce GTX 900M series.
With these GPUs you are able to play modern and demanding games fluently at medium detail settings and HD resolution.
NVIDIA GeForce GTX 1080 Mobile: Pascal based laptop graphics card using GDDR5 graphics memory. Should offer a similar performance to the deskto GTX 1080. However, there is also a more power efficient "Max-Q" version that performs worse than the normal GTX1080 and is used in thin and light laptops.
NVIDIA GeForce GTX 1060 Mobile: The mobile GTX 1060 is based on the GP106 chip and offer 1280 shaders. Compared to the identically named desktop version it features a slightly lower clock rate. Games in Full HD and maximum details should run fluently on the card.
» Further information can be found in our Comparison of Mobile Graphics Cards and the corresponding Benchmark List.
---
Intel Core i7: The Intel Core i7 for laptops is based on the LG1156 Core i5/i7 CPU for desktops. The base clock speed of the CPUs is relatively low, but because of a huge Turbo mode, the cores can dynamically overclock to up to 3.2 GHz (920XM). Therefore, the CPU can be as fast as high clocked dual-core CPUs (using single threaded applications) but still offer the advantage of 4 cores. Because of the large TDP of 45 W / 55 W, the CPU is only intended for large laptops.
4700HQ: Haswell-based quad-core processor clocked at 2.4 GHz with Turbo Boost support up to 3.4 GHz. Offers an integrated HD Graphics 4600 GPU and a dual channel DDR3 memory controller.
4720HQ: Haswell-based quad-core processor clocked at 2.6 GHz with Turbo Boost support up to 3.6 GHz. Offers an integrated HD Graphics 4600 GPU and a dual channel DDR3 memory controller.
6700HQ: Skylake-based quad-core processor for notebooks. Offers an integrated HD Graphics 530 GPU and is manufactured in 14 nm.
Intel Kaby Lake:
i7-7820HK: Quad-core notebook processor based on the Kaby Lake architecture running at 2.9 - 3.9 GHz. It is the second fastest model of the consumer H-series in the beginning of 2017. The chip also integrates the HD Graphics 630 GPU clocked at 350 - 1100 MHz and is manufactured in a 14 nm process (improved compared to Skylake). Compared to the Core i7-7820HQ, the 7820HK lacks business features like vPro or TXT support.
i7-7700HQ: Quad-core notebook processor based on the Kaby Lake architecture. Besides four CPU cores (including Hyper Threading), the chips also integrates the HD Graphics 630 GPU and is manufactured in an improved 14 nm process.
» Further information can be found in our Comparison of Mobile Processsors.
---
» To find out how fine a display is, see our DPI List.
---
3 kg:
In former years, this weight was representative for laptops with a 14-16 inch display-diagonal. Nowadays, 17 inch laptops weigh less than that.
3.6 kg:
---
81.36%: This rating should be considered to be average. This is because the proportion of notebooks which have a higher rating is approximately equal to the proportion which have a lower rating.
» Further information can be found in our Notebook Purchase Guide.