Pixel Buds Pro: 4 features Google blatantly borrowed from Apple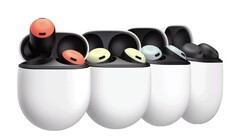 The choices and comments made on this list belong solely to the author.
1. Transparency mode and spatial audio
With the Pixel Buds Pro, Google went ahead and borrowed Apple's transparency feature from AirPods Pro that lets ambient noise in at the touch of a button. Perhaps the most insulting takeaway here is the fact that Google did not bother to create a new marketing name for this feature and instead recycled Apple's branding.
Yet another copycat feature introduced on the Pixel Buds Pro is spatial audio, an immersive 3D audio mode that AirPods Pro users gained via an over the air (OTA) software update back in 2020.
2. Automatic device switching
Multi-device pairing and automatic switching between devices has been standard across iOS, macOS, and watchOS for the past two years. These features remain exclusive to the recently unveiled Pixel Buds Pro and will not be available on the Pixel Buds A-series.
While Google has opted to hijack these features from Apple, its approach to compatibility is not mirroring that of Apple's given that all models of AirPods currently on sale, including AirPods 2 and AirPods 3, support multi-device switching.
3. Find my buds
Shortly after revealing the Pixel Buds Pro, Google added that both buds could be tracked individually via the Find My Device app on Android. This is similar to the Find My app integration utilized by Apple's AirPods since iOS 10.3 was released back in 2017.
However, individual bud tracking was not made available until iOS 15 debuted last year. AirPods can even notify users if they happen to leave their headphones behind. Pixel Buds Pro notably lack such functionality.
4. Hands-free assistant
Accessing Siri hands-free via a "hey Siri" command has been a standard AirPods feature since AirPods 2 were released in early 2019 featuring Apple's custom H1 chip.
Over three years later and Google's first-party buds finally gain the ability to summon Google assistant simply by saying "hey Google". It's about time.
Self-proclaimed coffee connoisseur and tech enthusiast Brahm Shank is captivated by the impact of consumer tech: "It's profoundly moving when people discover that the phone in their pocket or the tiny computer on their wrist has the power to enrich their lives in ways they never imagined." Apple, Inc. and its unique position at the intersection of technology and the creative arts, resonates deeply with Brahm and his passion for helping people unleash their potential using technology. Over the years, Brahm has held various podcasts - including famed technologist David Pogue of The New York Times on topics such as Big Tech and digital wellness.