OnePlus 6T to come in purple as well as black: new leak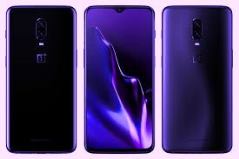 The OnePlus 6T is set to launch in less than 3 days from now. It has experienced quite an uptick in its leak-rate. We now have a list of full press images, specs and pricing to check against during the October 29 event. The latest rumor suggests that OnePlus will add purple to its color SKUs for this device.
Everything that there is to know about the OnePlus 6T seems to be out there. Even though the phone has not even been launched yet, there are leaks of varying quality concerning its looks, internals and camera performance out there. As if to add to the company's possible problems, it also had to change its initial October 30 launch date so as not to clash with Apple's.
The latest rumor circulating about the 6T claims that OnePlus will be introducing a new color for its (probably) glass rear panel. According to Ishan Agarwal, one of the tipsters who contributed to the latest press image leaks, the phone's 8GB/128GB SKU will come in Mirror Black, Midnight Black, and...purple. The first 2 of these are familiar from the OnePlus 6's launch, but the third is unprecedented for this company.
On the other hand, OnePlus is known for experimental rear-panel finishes. The 6 also came in a vibrant red SKU, whereas the OnePlus 5T had had a sandstone-textured, Star Wars-themed white version. However, it should be noted that there were also speculations about a purple version for the 6 based on the lighting used in its promo material. Therefore, the 'purple 6T' prospect should be taken with at least a nano-grain of salt.