OnePlus 5T gets iPhone X-like navigation gestures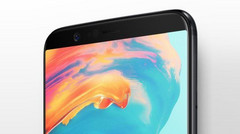 Introduced with the OxygenOS Open Beta all the way back in January, the new gesture-based navigation system for the OnePlus 5T is now available for everyone thanks to the OxygenOS 5.1.0 update. Once this feature is enabled, the navigation buttons are hidden, and the user needs to swipe the display for Home, Back, and Recent Apps.
The OnePlus 5 and the OnePlus 5T just received the OxygenOS 5.1.0 update, which brings Android 8.1 Oreo to these two handsets, as well as navigation gestures similar to those available on the Apple iPhone X. However, this feature is only available for the OnePlus 5T.
Once the user enables the gesture system, those three iconic Android navigation buttons get out of sight, so their functions can be performed as below:
Home — swipe up from middle
Back — swipe up from left/right
Recent Apps — swipe up from middle and hold
The OxygenOS 5.1.0 update also includes the security patch dated April 1, category tags in the search section of the app drawer, auto name for folders based on category, new optimizations in gaming mode, such as power saving and pausing adaptive brightness, as well as network boost for the gaming app running in the foreground.
As it usually happens, this OTA update rolls out gradually, so those who still have to receive the notification should get it in the coming days. According to OnePlus, the users' feedback allowed them "to better optimize and improve several key areas" of the OnePlus 5T firmware.