Nvidia's RTX 2060 rumored to launch at $350 with the performance of a GTX 1070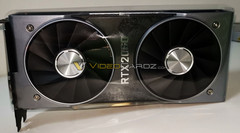 The RTX 2060's previously rumored specs are now confirmed, as well as pricing. Starting January 15th, the RTX 2060 can be purchased for $350 and offers 1070 like performance as well as support for ray tracing.
VideoCardz, the source of recent RTX 2060 rumors, says it has now confirmed the specifications of the 2060, and its 1920 CUDA core design is, according to the rumor website, fact. VideoCardz allegedly obtained access to a reviewer's guide for the RTX 2060, which is said to be revealed on January 7 and launched on January 15. The 2060 is a slightly cut down 2070 and should offer performance similar to the GTX 1070, a last gen card that launched at $380. Although the price cut is very minor, the 2060's use of GDDR6 memory should prevent any sort of bottlenecking at higher resolutions; the 1070, 1080, and 1080Ti don't scale as well over higher resolutions as this generation's 2070, 2080, and 2080Ti. The RTX 2060 will also ship with the choice of either Anthem or Battlefield V, which is a nice bonus.
After Battlefield V patched in RTX support and reviewers benchmarked their RTX GPUs, many wrote off the RTX 2070 as a GPU that could really support ray tracing, even after a new patch improved performance by a significant percentage. With only 30 RT cores, 6 less than the 2070 and less than half that of the 2080Ti, it will surely be hard to see the 2060 offering a very playable level of performance when using ray tracing. However, according to Nvidia's reviewer guide the 2060 should be able to achieve 65 FPS at 1080p with RTX on and 88 FPS with both RTX and DLSS on (which is basically a fancy way Nvidia can upscale resolution). That sounds incredible considering the 2080Ti still barely gets 60-70 FPS with DXR turned down to low.