New Samsung patent renders point to flip phone with foldable display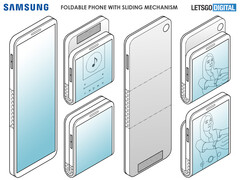 Samsung's next foldable smartphone looks like it could be a spiritual successor to the flip phones or clamshell devices of yesteryear. Like the forthcoming reborn Moto Razr, the next foldable device from Samsung looks to be pure smartphone, rather than a phone and tablet hybrid.
A new patent for a foldable Samsung smartphone has emerged and our friends over at Letsgodigital already turned it into a render of how it might look in the flesh. The device doesn't look like it will be a direct successor to the Galaxy Fold which effectively turns a smartphone into a 2-in-1 tablet hybrid. Instead, the patent points to a flip phone-like design that would have the display fold outwards, rather than inwards as we have seen in leaked images of the Moto Razr 2019, but still would allow the device to become compact and highly pocketable.
Samsung has said that it has alternative designs in mind that take advantage of its cutting-edge folding AMOLED display technology. In this application, a 6.7-inch foldable AMOLED display will bend around the outside of the device when folded. Currently, the display assembly itself is tipped for mass production in November suggesting that it could a release early in the new year, or at least a sneak peak at CES 2020.
With foldable devices off to a less than spectacular start following the failed initial launch of the Galaxy Fold and the ongoing postponement of the Huawei Mate X, it is unclear whether the technology will renew consumer interest in flagship smartphones. Currently, with the starting price well over US$2,000, widespread adoption is still a way off. Also unclear is which foldable form factor, if any, will hit the mark for consumers, so expect a scattergun approach to see what sticks.