New Apple MacBook Pro said to be unveiled October 27th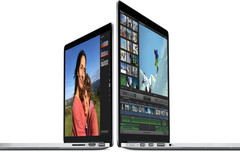 Internal sources at Apple told Recode, that the Cupertino company will hold another hardware event on October 27th. We expect Apple to introduce a redesigned MacBook Pro, possibly a new MacBook Air and maybe even a new external display.
Internal sources at Apple told Recode that the company is planning an event for October 27th. Analysts already predicted another hardware related event to take place in October weeks ago. This event will most likely be about the Mac. Tim Cook recently told a concerned Mac user to "Stay tuned" and both the MacBook Pro and Air models and the Desktop-Macs are in desperate need of an update, according to the MacRumors Buyers Guide.
Insiders expect the new MacBook Pro to be redesigned from scratch. Recent reports suggested a slimmer and thinner device with OLED touchpanel and Touch ID support, up to date processors and faster AMD Polaris graphics. Apple may also update its MacBook Air and unveil a new external 5K-display. So far Apple did not confirm the event but official invitations are most likely coming soon.