NEC unveils its first Gemini Lake tablet - the VersaPro VU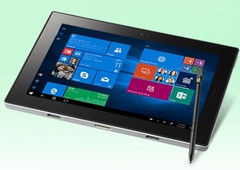 The VersaPro VU is a 2-in-1 Windows 10 tablet that will only be available in Japan. The 1920 x 1200 touchscreen does not come with fancy thin bezels, but NEC does provide a tactile pen. It is powered by the Gemini Lake Celeron N4100 CPU coupled with 4 GB LPDDR4, and users can choose between 64 or 128 GB of eMMC storage. Also included is the docking keyboard, which comes with more ports.
The latest 2-in-1 Windows 10 tablet from NEC is among the few new products that the Japanese company released this year. NEC used to have quite the presence on the global market a few decades ago, but in recent years, the company has focused on government collaboration for the Japanese isles only, so most of its devices are essentially localized.

As far as specs are concerned, the new VersaPro VU tablet comes with updated features like the latest Gemini Lake Celeron N4100 ULV CPU coupled with 4 GB of LPDDR4 and a choice between 64 or 128 GB eMCC storage. The display does not come with slim bezels, but it gets the job done with the 1920 X 1200 resolution and touch capabilities. It even has a special slot for the included tactile pen in the upper right part of the back.

Other features include:
• WiFi + Bluetooth 4.1 + 4G LTE (Optional)
• 2 MP selfie cam + 5 MP rear cam
• USB-A/C 3.0 ports
• Docking keyboard with additional USB and HDMI ports plus GbE jack
• 0.4-inch thickness, 1.4 lbs weight (2.6 lbs with detachable keyboard)

No MSRP revealed for the moment, however, the tablet is clearly intended only for the Japanese market, as very few NEC devices make out of Japan these days.