Courtesy of Evan Blass, the man with a thousand sources, we have two new photos related to the cancelled Microsoft Surface Mini. The small tablet, which was supposed to compete with the iPad Mini and Nexus 7, never made it to retail shelves, so we never got to find out if it would have held its own against such strong rivals. Years later, we at least get to find out what would have been under the hood of Microsoft's tiny device.
Without further ado, here are the Surface Mini's specs: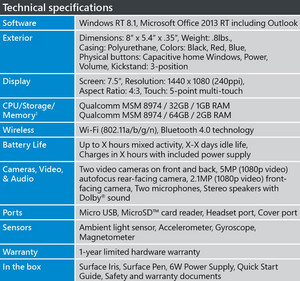 As you can see, the Surface Mini was not going to wow users with its hardware, but it was a decently-outfitted tablet nonetheless. The display's 4:3 aspect ratio and 1440x1080 resolution meant that it was likely targeting Apple customers in hopes of getting them to switch over to Microsoft. The trademark kickstand was there, although it was locked to just three angles. And there were two versions of the Surface Mini, a 1 GB RAM/32 GB ROM model and another with double of both types of memory. Unfortunately, it was supposed to run Windows RT 8.1, which in hindsight would have been the real sticking point in an otherwise solid Windows device.
Aside from the specs sheet, Blass also posted a collage of Surface Mini marketing photos (visible at the top of the article). They show a very iPad Mini-esque tablet covered with a type of rubbery red case. Although the back of the Surface Mini is not visible in the photos, The Verge mentions that Microsoft planned to release blue, red, and black variants.
The Surface Mini is now but a footnote in the history of tablets, lost in the wake of other small tablets that actually came to market (and a few that became quite successful), but it is still interesting to wonder what could have been had it actually been released, preferably with a full version of Windows like some of its larger siblings.
Top 10 Laptops
Multimedia, Budget Multimedia, Gaming, Budget Gaming, Lightweight Gaming, Business, Budget Office, Workstation, Subnotebooks, Ultrabooks, Chromebooks
under 300 USD/Euros, under 500 USD/Euros, 1,000 USD/Euros, for University Students, Best Displays
Top 10 Smartphones
Smartphones, Phablets, ≤6-inch, Camera Smartphones