Lenovo tablet with Dolby Atmos audio shows up at FCC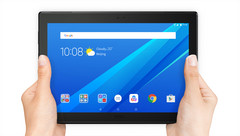 Since the Lenovo Tab 4 has been around for a while, the time seems right for a new Android slate from the Chinese brand. Sadly, the FCC arrival of the Dolby Atmos-certified Lenovo TB-8304F1 does not reveal anything else than its audio certification and the power input of just 5 V and 1 A, but many expect it to hit the market as the Lenovo Tab 5.
Although the global market tablet is not doing great nowadays, most big brands in the industry continue to come up with new devices from time to time. Lenovo is such a brand and, since the Tab 4 family has been around for a while, the latest slate that surfaced on the FCC certification website might just be the Lenovo Tab 5 that some consumers are eagerly waiting for (and Lenovo still has to announce).
Sadly, the details coming with this FCC visit are scarce and there is nothing much to talk about. However, we now know that the Lenovo Tab unit identified by the FCC with the model number TB-8304F1 features support for Dolby Atmos audio and — as strange as it may seem, in a time when everyone is working hard on shortening the period needed for a full battery charge — a power input of 5 V and 1 A, which could be a typo, a very bad engineering solution, or a completely new battery technology that does not need 5 V and 2 A (or more) charging to get the job done properly.
In addition to the above, the few schematics found in the FCC documents also reveal a single back camera that might feature an LED flash, volume and power control buttons on the right, and most likely the SIM and microSD slots on the left.
The last Tab 4 models came in 8-inch and 10-inch sizes, both with Android Nougat onboard and powered by a Qualcomm Snapdragon 625 processor and 4 GB RAM. Their successor must come with a newer Qualcomm processor, 4 GB or 6 GB RAM, as well as Android Oreo. It only remains to see when will this happen, so stay tuned (and watch the review of the 8-inch Lenovo Tab 4 embedded below).