LG V10 and G4 to get Nougat later this year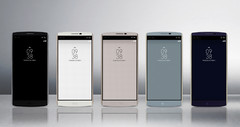 Not long after announcing that these handsets offer the best performance when running Marshmallow, LG has finally decided to offer Android Nougat to both the G4 and V10 flagships. The V10 should get the new firmware in the second quarter, while the G4 is scheduled to follow in the third quarter.
Since the new LG flagship promises to be the device to restore faith in the mobile division of the company once known as Lucky-Goldstar, it is great to see that older handsets continue to receive the latest software updates as well. These devices are the LG V10 and G4, two Android handsets that were expected to remain stuck with Android 6.0 Marshmallow.
Not long time ago, LG said that the two Android flagships mentioned earlier perform better in Android Lollipop and Marshmallow, so Nougat would not be offered. However, the company's officials said at MWC 2017 that offering Android 7.0 "came as part of our efforts to maximize customer satisfaction." Now, a schedule has been unveiled as well - "The new OS update will be available for the V10 in the second quarter of this year, with the G4 in the third quarter."
The LG V10 and LG G4 both use the Qualcomm Snapdragon 808 processor, which also powers the Nexus 5X - a handset that Google already updated to Android Nougat. Now, remains to see if LG unleashes the new firmware in a timely manner or fails to meet the launch dates mentioned earlier.